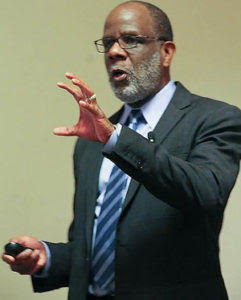 In February 2012, the NASJE board established the Karen Thorson Award to honor a NASJE member who has made a significant contribution to both NASJE and judicial branch education nationally. It is my great pleasure to announce this year's Karen Thorson Award winner, also from California – Michael Roosevelt.
The very first recipient of the award, Karen Thorson, is a former NASJE President and was director of judicial branch education in Arizona and California. Karen helped advance the judicial branch education profession through encouraging inclusion of all those involved in the judicial education process. Karen was also instrumental in the adoption of the NASJE Core Competencies. Despite her "retirement," she continues to positively impact and improve judicial branch education through her teaching and consulting.
NASJE members, non-NASJE members, and judicial branch employees across the country know well this year's winner, Michael Roosevelt, because of the programs he has designed on diversity, building public trust and confidence through procedural fairness, and implicit bias. To say that he is at ease facilitating discussions on difficult or challenging subjects in the workplace and in society, is an understatement, to say the least.
For those who may not know Michael, he currently serves as Senior Analyst, Criminal Justice Services, Judicial Council of California, Operations and Programs Division. He is a faculty member of the National Judicial College, and is often asked to provide state and national workshops and keynote speeches on his timely topics. Audiences have included lawyers, judges of all levels and types, court staff, criminal justice system partners, tribal groups, mediators, teachers, and school administrators.
Mr. Roosevelt's contributions to NASJE and to judicial branch education are too numerous to list here, but a few are particularly noteworthy. In addition to serving on numerous committees, as Chair of the Education Committee and the Diversity Committee, Michael spearheaded the NASJE Curriculum Design for Diversity, Fairness and Access through Education. As Western Regional Director, he helped lead the region to establish the Western Regional Conference which brought Western members as well as members from outside the region together. Through the years, he has also contributed significantly to the annual conference by developing and teaching diversity track sessions.
To borrow from one of the letters of recommendation received in support of Michael:
"As a judicial educator for the state of California, Michael has led the way for all of us, breaking new ground for the California judiciary on one topic after another since 1998. In doing so, Michael understands the process of personal growth and change through education and awareness. He has made us all better people."
And lastly, borrowing from another letter, "Our organization is better because of him and I'm grateful to have such a friend to learn from."
I couldn't agree more. Congratulations, Michael Roosevelt!