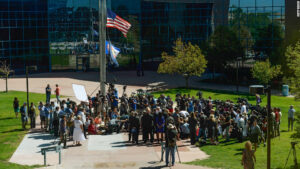 While the nation mourned, the Colorado judicial system was strained to its limits. What did we learn? And even more importantly, how can we prepare for the next high-profile case? In "Managing the Spotlight: Lessons from the Aurora Theatre Trial," participants will travel to the Arapahoe County Justice Center to see where the trial took place and hear from jurors, survivors, the trial judge, and other court personnel (including the public information officer) who were involved in the case. You will hear stories of collaboration from the judge and the court personnel as they worked to seek justice for the Aurora community, all while experiencing their own forms of trauma, both personal and vicarious.
Participants will begin with a presentation by Sarah Myers of the Colorado Lawyer Assistance Program, who will provide tools for managing vicarious trauma. (This ELO can evoke intense emotions.) Participants will then learn about unique logistical concerns of hosting a high-profile trial, including how to protect everyone's constitutional rights while giving the public access and maintaining the safety of all involved. In addition, jurors will explain how their lives were changed by being called to serve, while survivors will provide a new lens with which to examine the impact of court proceedings.
Unfortunately, as time has shown, every jurisdiction must be prepared to manage a high profile case that will affect the lives of numerous public employees and private citizens. Join us to gain the tools, strategies, and insights that can help your court provide the best service possible in the face of complex, and at times overwhelming, circumstances.