By Kelly Tait
Judge Victoria Pratt, chief judge of the Newark Municipal Court in Newark, New Jersey, will be the opening keynote speaker at NASJE's 2016 Annual Conference in Burlington, Vermont, Sept. 25-28. Judge Pratt runs the pioneering court that she helped build from the ground up based on procedural fairness principles.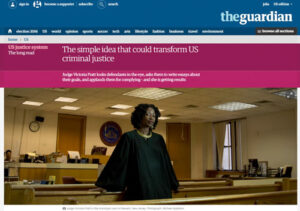 Procedural fairness (also called procedural justice) is in large part based on perceptions of how decisions are made and the quality of interpersonal treatment by authority figures. Improved procedural fairness has a ripple effect throughout the justice system, from increasing litigants' voluntary compliance with court orders, to reducing recidivism, to increasing overall trust and confidence in the system.
Judge Pratt's keynote address, "Re-Imagining the Justice System to Include Procedural Fairness," will include the principles of Procedural Justice as well as how to put these principles into practice. Conference attendees will consider the implications for judicial branch educators and the justice system overall.
For more on Judge Pratt and her court, see "The Simple Idea that Could Transform U.S. Criminal Justice" by Tina Rosenberg in The Guardian (6/23/15). Also see a six minute interview with Judge Pratt at MSNBC.
Find out more about the conference here.