New Jim Crow: Mass Incarceration in the Age of Colorblindness by Michelle Alexander
GET IT AT AMAZON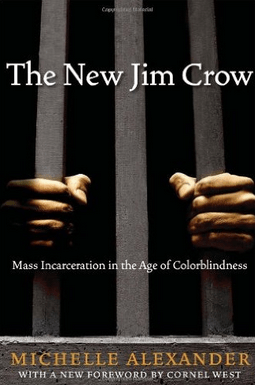 Once in a great while a book comes along that changes the way we see the world and helps to fuel a nationwide social movement. The New Jim Crow is such a book. Praised by Harvard Law professor Lani Guinier as "brave and bold," this book directly challenges the notion that the election of Barack Obama signals a new era of colorblindness. With dazzling candor, legal scholar Michelle Alexander argues that "we have not ended racial caste in America; we have merely redesigned it."
By targeting black men through the War on Drugs and decimating communities of color, the U.S. criminal justice system functions as a contemporary system of racial control—relegating millions to a permanent second-class status—even as it formally adheres to the principle of colorblindness. In the words of Benjamin Todd Jealous, president and CEO of the NAACP, this book is a "call to action."
---
The Divide: American Injustice in the Age of the Wealth Gap by Matt Taibbi
GET IT AT AMAZON
Be prepared to be outraged.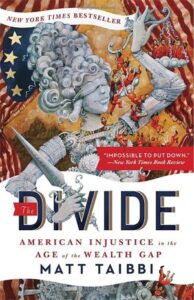 In his compelling book, The Divide: American Injustice in the Age of the Wealth Gap, Rolling Stone editor Matt Taibbi builds a compelling case about inequality in the American criminal justice system, charging that one's wealth or lack thereof largely affects how one fares in it. Mr. Taibbi demonstrates convincingly how and why Wall Street bankers, traders and hedge fund operators have never been convicted of crimes for their roles in the 2008 recession—and it isn't pretty. The tableau he paints shows that despite convincing evidence of their crimes, those able to afford expensive lawyers get off without criminal convictions.
On the other hand, the poor are subject to Broken Windows policing and stop and frisk policies that cause them to be detained and subject to search and arrest for no other reason than being there. Welfare recipients are routinely convicted, jailed, and refused future benefits because of errors in the system, and their homes and belongings searched without just cause. Large segments of the minority and poor populations have criminal convictions and/or have served jail time for truly minor "crimes," or for no reason at all. According to Mr. Taibbi, this happens because they are poor and powerless—and often because of their race.
The picture Mr. Taibbi paints is disturbing, and the information he provides is indispensable. His arguments show diligent and thorough research. He quotes statistics and well-known social science researchers and members of the Justice Department, as well as members of various police forces and the victims and victors themselves. Just when you think you understand the criminal justice system, this book jars you into realizing how much more there is to learn and to work to change.
The Divide is essential reading for anyone who works in the criminal justice system and would be an interesting (and perhaps controversial) Law and Literature or book club selection.
But, be prepared to be outraged.
---
Reaching and Teaching Students in Poverty: Strategies for Erasing the Opportunity Gap by Paul C. Gorski
Get it at AMAZON
The author draws from decades of research to deconstruct popular myths, misconceptions, and educational practices that undercut the achievement of low-income students.
He carefully describes the challenges that students in poverty face and the resiliencies they and their families draw upon. Most importantly, this book provides specific, evidence-based strategies for teaching youth by creating equitable, bias-free learning environments. Written in an appealing conversational tone, this resource will help teachers and school leaders to better reach and teach students in poverty.
---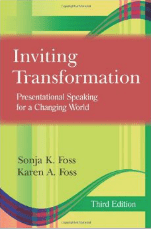 Inviting Transformation: Presentational Speaking for Changing the World by Foss & Foss
Get it at AMAZON
The third edition of Inviting Transformation continues to offer a refreshing, innovative approach to public speaking, or what the authors call presentational speaking to acknowledge that not all important speaking occurs in formal public settings. The book introduces readers to invitational rhetoric, a mode of communicating that offers an effective response to the diversity that characterizes the world.
Respect for the diversity of the world also is emphasized in the book in that the traditional speaking model has been expanded to include speaking options that characterize diverse cultural groups. For all of the processes of presenting — such as selecting a speaking goal, organizing ideas, elaborating on ideas, and delivering the presentation — the book includes and validates more inclusive speaking practices.
The exceptionally accessible writing style and reasonable price make this concise text attractive for students and instructors alike.
---
A Dictionary of Sociology by John Scott
Get it at AMAZON
A consistent best-seller, the wide-ranging and authoritative Dictionary of Sociology was first published in 1994 and contains more than 2,500 entries on the terminology, methods, concepts, and thinkers in the field, as well as from the related fields of psychology, economics, anthropology, philosophy, and political science. This Dictionary is both an invaluable introduction to sociology for beginners, and an essential source of reference for more advanced students and teachers.