Human Resource Development: Today And Tomorrow by Ronald R. Sims
Get it at AMAZON
This book is written with the belief that HRD professionals will continue to learn, change and find ways to reinvent themselves and the profession individually and collectively as we move further into the 21st century. A major point of this book is that HRD will continue to become more and more important to organizational success. And, that in as calls for accountability and bottom line impact continue to rise, HRD professionals will be proactive in demonstrating their value to the organization.
The primary audience for this book is practicing HRM and HRD professionals, and other organizational leaders. The book provides tested and proven ideas important to demonstrating the value of HRD. From a practical viewpoint, it is based on actual experience, a strong research base, and accepted practices presented in an easy to read form.
A second target audience is students of HRD and HRM who are preparing for careers in this important field. This book will help them develop a solid foundation to the study of HRD practices that are key to HRD success regardless of the type of organization.
A third target audience is managers or leaders at all levels of an organization who are increasingly expected to take on HRD responsibilities while also partnering with HRD professionals. It offers these individuals a firsthand look at what they should expect of their HRD functions or areas and how they can encourage HRD professionals in their organizations to be accountable' strategic partners in helping the organization achieve its success by getting the most out of its human capital.
---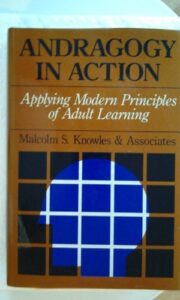 Andragogy in Action: Applying Modern Principles of Adult Learning by Malcolm S. Knowles
Get it at AMAZON
This classic work by a pioneer in the field of adult learning provides over thirty case examples from a variety of settings illustrating andragogy (principles of adult learning) in practice, including applications in business, government, colleges and universities, religious education, remedial education, and continuing education for the professions.
---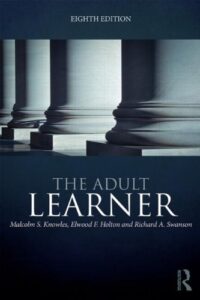 The Adult Learner: The definitive classic in adult education and human resource development by Malcom S. Knowles, Elwood F. Holton III, and Richard A. Swanson
Get it at AMAZON
How do you tailor education to the learning needs of adults? Do they learn differently from children? How does their life experience inform their learning processes? These were the questions at the heart of Malcolm Knowles' pioneering theory of andragogy which transformed education theory in the 1970s. The resulting principles of a self-directed, experiential, problem-centered approach to learning have been hugely influential and are still the basis of the learning practices we use today. Understanding these principles is the cornerstone of increasing motivation and enabling adult learners to achieve. If you are a researcher, practitioner or student in education, an adult learning practitioner, training manager, or involved in human resource development, this is the definitive book in adult learning you should not be without.
---
Experiential Learning: Experience as the Source of Learning and Development by David A. Kolb
Get it at AMAZON
Experiential learning is a powerful and proven approach to teaching and learning that is based on one incontrovertible reality: people learn best through experience. In this book, David A. Kolb offers a systematic and up-to-date statement of the theory of experiential learning and its modern applications to education, work, and adult development. Kolb models the underlying structures of the learning process based on the latest insights in psychology, philosophy, and physiology. Building on his comprehensive structural model, he offers an exceptionally useful typology of individual learning styles and corresponding structures of knowledge in different academic disciplines and careers. Kolb also applies experiential learning to higher education and lifelong learning, especially with regard to adult education. This is an indispensable resource for everyone who wants to promote more effective learning: in higher education, training, organizational development, lifelong learning environments, and online.