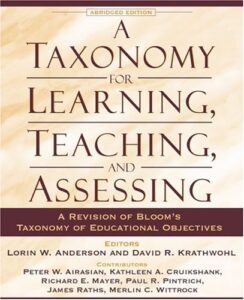 A Taxonomy for Learning, Teaching, and Assessing: A Revision of Bloom's Taxonomy of Educational Objectives by Lorin W. Anderson
Get it at AMAZON
This revision of Bloom's taxonomy is designed to help teachers understand and implement standards-based curriculums. Cognitive psychologists, curriculum specialists, teacher educators, and researchers have developed a two-dimensional framework, focusing on knowledge and cognitive processes. In combination, these two define what students are expected to learn in school. Like no other text, it explores curriculums from three unique perspectives-cognitive psychologists (learning emphasis), curriculum specialists and teacher educators (C&I emphasis), and measurement and assessment experts (assessment emphasis). This "revisited" framework allows you to connect learning in all areas of curriculum. Educators, or others interested in Educational Psychology or Educational Methods for grades K-12.
---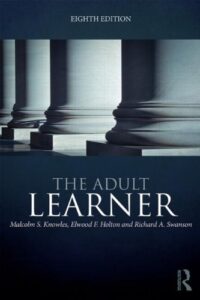 The Adult Learner: The definitive classic in adult education and human resource development by Malcom S. Knowles, Elwood F. Holton III, and Richard A. Swanson
Get it at AMAZON
How do you tailor education to the learning needs of adults? Do they learn differently from children? How does their life experience inform their learning processes? These were the questions at the heart of Malcolm Knowles' pioneering theory of andragogy which transformed education theory in the 1970s. The resulting principles of a self-directed, experiential, problem-centered approach to learning have been hugely influential and are still the basis of the learning practices we use today. Understanding these principles is the cornerstone of increasing motivation and enabling adult learners to achieve. If you are a researcher, practitioner or student in education, an adult learning practitioner, training manager, or involved in human resource development, this is the definitive book in adult learning you should not be without.
---
Experiential Learning: Experience as the Source of Learning and Development by David A. Kolb
Get it at AMAZON
Experiential learning is a powerful and proven approach to teaching and learning that is based on one incontrovertible reality: people learn best through experience. In this book, David A. Kolb offers a systematic and up-to-date statement of the theory of experiential learning and its modern applications to education, work, and adult development. Kolb models the underlying structures of the learning process based on the latest insights in psychology, philosophy, and physiology. Building on his comprehensive structural model, he offers an exceptionally useful typology of individual learning styles and corresponding structures of knowledge in different academic disciplines and careers. Kolb also applies experiential learning to higher education and lifelong learning, especially with regard to adult education. This is an indispensable resource for everyone who wants to promote more effective learning: in higher education, training, organizational development, lifelong learning environments, and online.
---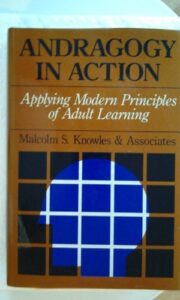 Andragogy in Action: Applying Modern Principles of Adult Learning by Malcolm S. Knowles
Get it at AMAZON
This classic work by a pioneer in the field of adult learning provides over thirty case examples from a variety of settings illustrating andragogy (principles of adult learning) in practice, including applications in business, government, colleges and universities, religious education, remedial education, and continuing education for the professions.