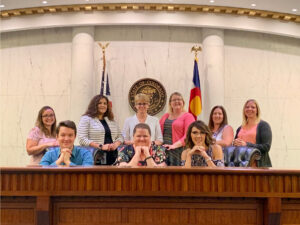 In the Colorado Court Services training unit, new trainers undergo "Training Boot Camp" to learn and master training delivery skills and methodologies. From there, they graduate to "Special Ops," where they continue to refine their development techniques, as well as identify new approaches, with their fellow specialists.
Specifically, the group of trainers who cover Colorado's 22 judicial districts work together to develop and share training ideas based on current instructional design theories, as well as what they see working (and not) in their own classrooms. Some of the techniques they have identified and will share at the NASJE conference include:
Escape Room. While "escape rooms" are a current social fad, Lindsay Gallegos, who teaches in districts west of Denver, developed one for use during the onboarding process for clerks of court.
Storytelling. Everyone loves a good story, but weaving words into instruction is an art into itself. Lindsay Romero and Maria Barkwill will explain how they do it for employees in the SW corner of the state.
Threshold Experiences. A threshold takes you from one place into another—a new beginning, a point of departure or a transition. Western-slope trainer Sheena Sanchez will discuss these often misunderstood moments when training is of particular importance to a learner.
No Learner Left Behind. Becky Owens' learning passion is engaging the resistant learner, who not only will impact their own individual performance, but can impact a group learning experience as a whole. Becky teaches in the southeast portion of Colorado.
PowerPoint Tricks & Tips. We all hate PowerPoint presentations…unless it's done well. And the fact is, PowerPoint is still the most used educational tool in the field, particularly among SMEs. Dawn Gary, who covers the northern part of Colorado, will discuss ways to energize and engage participants.
Visual Aids Without PowerPoint? As we just discussed, we all hate PowerPoint. Liz Cooper, who teaches in the center of the state, will discuss ways to have participants "Get Up Offa That Thing" and engage with the material.
Body Language. How does a trainer make sure their students are engaged with a topic? A good place to start is looking like you are engaged. Denver's own Joe Bowlin will discuss how to use body language to show that the information you are discussing is relevant to the participants.
"I can't hear you!" So how does "Training Boot Camp" all come together? Who better to explain than Colorado Judicial training director Meghann Post, who reveals the methods, techniques, passion and creativity behind a program meant not only to standardize course development throughout the state, but also ensure a succession plan is in place when change inevitably occurs.
Our court education specialists are excited to share on this and other topics at the 2019 NASJE Conference. Please join us and add a few ideas of your own so that we can improve too!