by Nancy Fahey Smith
Data gets to your head, but stories grip your heart and your emotions. For their experiential learning session at the 2017 NASJE Annual Conference in Charleston, NASJE educators visited the Mother Emmanuel African Methodist Episcopal Church down the street from the conference hotel, where Dylann Roof shot and killed nine members of the congregation on June 17, 2015 during a bible study.
The stories told by the speakers during the session triggered powerful emotional responses in members who attended. The data tells participants that Dylann Roof killed nine parishioners and wounded 3 others in the basement of the AME church in 2015. The facts relate that he was found competent to stand trial and has been convicted of obstructing the practice of religion that resulted in the death of persons. The facts confirm that Dylann Roof has been sentenced to death.
The stories tell us so much more. NASJE members heard from the co-authors of the book We Are Charleston that Dylann Roof was welcomed into the bible study group, even though he was not a parishioner. He listened without speaking to the discussion of scripture before pulling out his gun and murdering group members in cold blood. We heard from a parishioner named Willie Glee that he was supposed to attend that bible study, but a conflict kept him away that day, and he lost friends yet remained alive to tell the story. We also heard from Mr. Glee that Mother Emmanuel AME remains an active church, that its congregation has not faltered in the wake of the murders. When asked if he would visit Dylann Roof in prison as some have done, Mr. Glee categorically said "No."
Christopher Bryant, law clerk for Judge Richard Gergel who presided over the trial, told a story that particularly tugged at judicial educators' heads and hearts. Mr. Bryant recounted how, as a highly successful Duke law school student, a justice on the 4th U.S. Circuit Court of Appeals recommended him to clerk for Judge Gergel in Charleston. Mr. Bryant did not want to go. Charleston's racist history repelled him, and the shooting in the back of African-American Walter Scott by a white police officer, followed quickly by the murders at Mother Emmanuel, only magnified his desire to go elsewhere. Yet he could not turn down the federal clerkship and so he journeyed to Charleston to clerk for Judge Gergel. He stayed during the entire trial, always with the intention of leaving when it was over. Yet witnessing the trial eventually convinced him to stay even though he had an offer from a prestigious Los Angeles law firm that promised big money and influential clients. He stayed because he considered Charleston a place where he could do the most good. He said he remained despite the racism, or perhaps because of it. Today, his clients are real people who need the help and he can provide.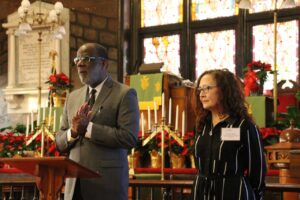 NASJE member Cheryl Howell of North Carolina, spoke about how Bryant's story about being afraid to live in Charleston moved her, and brought to her mind an African-American friend of hers, the mother of a young black man whom Howell finds delightful. His mother is so afraid for him and what might happen if he is stopped by the police.
Thorson award-winner Michael Roosevelt from California testified to how hearing the stories of real people involved in the tragedy made the learning experience so personal. Mark Goodner of Texas called the session "great!" because of the power of listening to the people who live in Charleston. The voices and perspectives brought by the storytellers effectively involved him in the session on an emotional level. Members Kim Carson of Iowa and Rosemary Garland-Scott of New York appreciated the narrative as told by African-Americans from their perspective, as contrasted to the white narrative of the previous day's walking tour of the city. The overall reaction of NASJE members was "Wow! What a story!"
An educator from North Carolina experienced perhaps the most visceral reaction of all. Listening to the history of Charleston at the church, and seeing an ancestor of hers portrayed from a not-so-flattering point of view reminded her that her family's good fortune was built on the backs of slaves in North and South Carolina. While she has grappled with this fact for years, the story heard in that Charleston church cemented her view that her family must not only confront its history, but also work for justice in the present.
Not everything can be taught or learned through an experiential learning session, but when appropriate, experiential learning offers an opportunity not to be missed. Involving both the head and the heart promotes long-lasting learning, something NASJE members work for every day.
Watch Marjory Wentworth recite her poem "Holy City", which is dedicated to the victims of the Mother Emmanuel AME murders, below. Wentworth is the co-author of We Are Charleston and poet laureate of South Carolina.