Judge Ed Spillane will be presenting a class on The Humanity of Litigants at the 2018 NASJE Annual Conference. Spillane is the Presiding Municipal Judge for College Station, a position he has held since May 2002.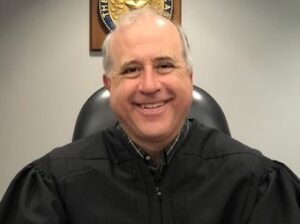 Judge Spillane received his undergraduate degree from Harvard University and his law degree from the University of Chicago. He is an active leader in the Texas judiciary, currently representing Texas municipal courts as a member of the Texas Judicial Council, the policy-making body for the state judiciary.
Spillane is a former president of the Texas Municipal Courts Association and a current board member, and he previously served a six-year term on the State Commission on Judicial Conduct.
A frequent speaker and author, Spillane is an advisory board member for The Misdemeanor Justice Project at John Jay College; serves on the federal Task Force on Fines, Fees, and Bail Practices; and his article Why I Refuse to Send People to Jail for Failure to Pay Fines" was published in the Washington Post in April of 2016.
Recently, Spillane has been practicing mindfulness from the bench and wrote about his thoughts in "Bringing Mindfulness into my Courtroom" in the Elephant Journal in December of 2017. His upcoming session at NASJE in Austin will allow all judicial educators a peak into his philosophy as he shares his insights.