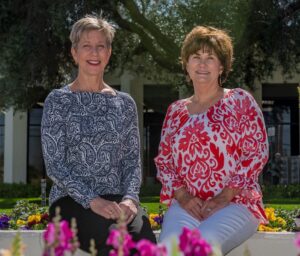 Performance coaching, executive coaching, skills coaching, life coaching. What do courts need in the realm of coaching, and why should judicial educators consider adding coaching to their courts' repertoire of training?
In their session, "A Coach Approach: Sustainable Change for Judicial Branch Leadership," NASJE members Leslie Gross and Nancy Smith will make the case for implementing a coach approach for court leaders involved in personnel management and other leadership arenas. Smith and Gross are trainers, coaches, and owners of Sustainable Change Coaching, which they founded this year in the hopes of helping court leaders become better people managers and leaders.
Why coaching? They have both experienced the courts and government jobs and have witnessed the need for better ways to engage employees, improve teamwork, and help employees through change. Coaching is proven to do these things and much more. The result? Happier, engaged, employees who are inspired to make the courts the best they can be! Unlike most coaches, Smith and Gross specialize in teaching court leaders how to be coaches, and to incorporate coaching into their leadership toolbox.
During the session, participants will practice coaching so they can experience how it can be a game changer in the courts. They will actively examine the challenges and costs of employee issues, analyze how coaching helps solve the challenges, and assess the payoff courts can experience when leaders learn and implement a coach approach in their courts.
The session "A Coach Approach" is offered on Saturday, October 19 at 10:15 at the Annual NASJE conference in beautiful Denver, CO.