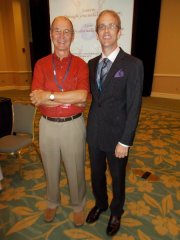 After his enlightening keynote session on using experiential learning in judicial education, Dr. David Kolb answered questions and exchanged ideas with conference participants in a break-out session. He addressed his Learning Styles Inventory's relationship to some other measures including the Myers-Briggs Type Indicator. He also contrasted differing cultural definitions of concepts such as empathy/logic and introversion/extroversion.
In response to a question about how to encourage abstract/reflective learners to engage in activities such as roleplaying, Dr. Kolb said that it's important to have the right amount of both challenge and comfort. He pointed to research with physicians and how often their specialties impacted where they tended to be comfortable. When asked about judges who were rotated into assignments with which they might be "misaligned," Dr. Kolb said it was vital in educating them to pass on both substantive and contextual knowledge.
There was a lively exchange of ideas during the session, with participants sharing perspectives about the use of Dr. Kolb's model. For instance, Karen Thorson said it was particularly effective to have judges use reflection on experiences as a key way to establish the "need to know." Dr. Kolb said judicial educators should be trying to create the sense of a "laboratory of learning" where judges aren't expected to know everything, where mistakes are viewed as normal and are valued as a way to learn.
Dr. Kolb recommended a couple of resources for judicial branch educators. For addressing resistance to learning and change, he recommended Immunity to Change: How to Overcome It and Unlock the Potential in Yourself and Your Organization by Robert Kegan and Lisa Laskow Lahey (2009). For educating around the learning circle and deciding where to start on the circle based on how the brain learns, he recommended The Art of Changing the Brain: Enriching the Practice of Teaching by Exploring the Biology of Learning by Dr. James E. Zull (2002).
All in all, the roundtable discussion with Dr. Kolb was a valuable way for participants to process information and ideas and to plan how to move those ideas into action in judicial branch education sessions.