Phil Knox, Court Administrator from Maricopa County Superior Court, presented a primer on caseflow management to about 14 NASJE members during the conference in Boston. He explained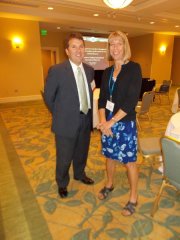 The elements of caseflow management;
Caseflow terminology definitions;
Definition of a "meaningful event" and its usefulness as an analytic tool; and
The roles of caseflow management, delay and meaningful events in processing of cases.
For Mr. Knox, caseflow management sets the "rules of the game" for scheduling and monitoring cases. Formally, it is a practice a court establishes to control the legal process through scheduling, monitoring and conducting important procedural events. By doing so, it defines the local legal process for both litigants and lawyers.
Several principles guide the flow of cases through the system. First, every case should receive individual attention. This does not mean, however, that every case receives the same amount of attention. Cases should be treated proportionately. Good caseflow management ensures procedural justice for all cases and allows the exercise of judicial control over the legal process.
According to Mr. Knox, the passage of time adversely affects all the reasons courts exist. Delay, however, happens all the time at all levels. Delay impacts cases because it consumes resources, mostly the time of attorneys, judges and court staff, and litigants. The key is to manage the time between events—long enough to allow preparation, but short enough to encourage preparation.
Delay can be managed, but it requires long-term commitment on the part of the court system. A predictable system sets expectations for all parties involved, ensures that desired actions occur when necessary, and holds all parties equally accountable.
Finally, Mr. Knox explained "meaningful events," which are occurrences that advance a case towards resolution. The more an event accomplishes multiple purposes, the more meaningful it is.
All of these concepts make up caseflow management, as well as many more not covered in the session. This complex and very important process, when well done, assures procedural justice for litigants, clear expectations for lawyers, and managed caseloads for judges.