The closing plenary of the 2012 NASJE Annual Conference had everyone up and moving and sharing a few laughs as well.
A Spark of Inspiration for Improving Your Skills utilized photographs, comic strips, animals, and toys as an interactive way to activate the creative and spontaneous side of the participants. Taught by Brian Remer, creative learning director of the Firefly Group, the session focused on using metaphors as a teaching method.
Participants were asked to come up with three elements of engaged learning, find three new ideas by moving and talking with others, find a partner at one of the designated tables, and pick one best idea. Using the various objects on the table, the partners had to select something to act as a metaphor for the best idea.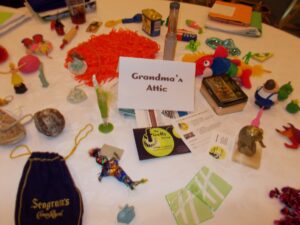 Remer connected the activity back to the opening plenary by David Kolb on experiential learning. He described the activity as active experimentation and then went around the circle in processing the experience. He said the challenge in education today is not about getting information, but transforming it and answering the question, "What am I going to do with what I have learned?"
Using props, such as photos or comic strips, is one method of teaching with metaphors. Remer also covered some other key points on using metaphors.
When to Use Metaphors
Begin a workshop; surface expectations.
Illustrate a key point; focus group attention.
Debrief an activity; explore a topic at greater depth.
Enhance brainstorming; increase creativity.
End a workshop; summarize content; evaluate.
Cautions in Using Metaphor
Avoid misunderstanding of the analogy.
Avoid misinterpretation of the analogy.
Avoid too much or too little similarity between analogy and topic.
Debriefing is critical for alignment with the topic.
Optimal balance determines maximum impact.
Strategic Use of Metaphor
Invention – Give people an analogy, or ask them to invent their own.
Selection – Think of the reality then choose a metaphor, or choose a metaphor and decide how it fits with reality.
Presentation – Introduce people to the analogy, or present the analogy and explain later.
Interpretation – Reveal or explain the analogy, or let people draw their own conclusions.
For more ideas on learning, creativity, and leadership, read the free The Firefly News Flash.