"Quick and Easy" and distance learning do not always go so well together, but Joseph Sawyer of the National Judicial College did shed some light on different approaches to electronic learning in the session How to Make Technology Work for You: Quick and Easy Ideas for Distance Learning.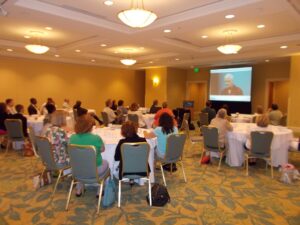 To introduce the topic, participants were asked to share some of their experiences with distance learning and voice any questions or concerns. Responses included:
"How do you improve attendance?"
"Should we develop our own modules or purchase libraries?
"Is asynchronous or synchronous learning better?"
"How does blended learning work?"
"Does instructional design apply online?
"Do learning modules need to be ADA accessible?"
"Are judicial educators becoming techies?"
Sawyer revisited basic concepts including synchronous and asynchronous learning, face-to-face learning and blended learning before reviewing some software options related to e-learning. He talked about the use of Articulate, Camtasia, Capitivate, iSpring suite, Jing, and Moodle. He then demonstrated some learning objects that had been created for the National Judicial College.
Some roadblocks to quickly creating learning objects (asynchronous learning) include the following:
Instructional design takes time.
Distance learning takes more time.
Learning objects are part of a larger curriculum.
You need to engage the learner.
Captions or transcript may be needed for 508 compliance.
Sawyer then gave some tips on instructional design for learning objects:
Chunk the information.
Make the learner do something.
Tell the learner what they are going to do.
Tell the learner what they just did.
Maintain a consistency of design.
Identify your learning objective.
Identify your learning activities.
Write out all of the narrative for any recorded audio segments.
Check for screen reader compatibility.
Conduct needs assessment.
Focus on emerging trends in mobile devices and know what works.
Develop lasting content.
For synchronous learning, such as live webinars, Sawyer provided the following list of available software to review:
Cisco WebEx
Microsoft Live Meeting
GoToMeeting
Adobe Connect
Blackboard Elluminate
Wimba LiveClassroom
While easer to produce than learning objects, synchronous delivery still requires a producer, faculty, designer and tech support.