Assessing Needs: The Basics of Processes and Models was based on part five of the NASJE Curriculum Designs. The two-part session was taught by William Brunson of The National Judicial College and Lee Ann Barnhardt of North Dakota.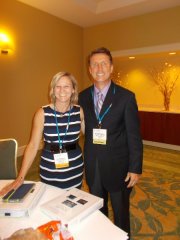 The learning objectives for the workshop were as follows:
Define "needs assessment" as it will be used in your state;
Describe the relationship between needs assessments, course goals and learning objectives;
Outline potential data sources and potential issues with those sources;
Differentiate between those situations when education is the answer and when it is not.
Choose needs assessment data-gathering approaches that are effective for various situations;
Identify basic considerations for structuring questions to be used to assess needs;
List potential barriers to conducting an effective needs assessment and discuss strategies to address each; and
Describe potential strategies to generate support of a selected needs assessment approach for a particular target audience.
A number of learning activities were used throughout the workshop including writing exercises, quizzes, small group discussions, lectures, case studies, and Jeopardy game.
Specific topics covered in part one were the determination of how needs assessments fit into the overall course planning process; the relationship between needs assessments, course goals and learning objectives; information sources for needs assessments; and the distinction between when education is necessary and when it's not the answer. Participants were given a court-related problem to determine if there was a need for education to be provided in that particular case.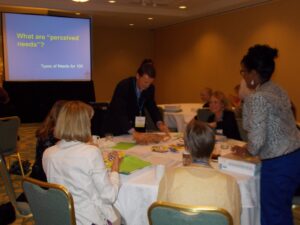 Part two of the workshop began with a discussion on different ways to gather information: (1) interviews; (2) focus groups; and (3) surveys and questionnaires. The discussion of surveys and questionnaires included a breakdown of the types of surveys and questionnaires that could be used: (a) Likert Scale; (b) Rank Order Scale; and (c) Delphi Method. Participants were then asked to differentiate between closed and open-ended questions and between asking face-to-face questions and written questions. Small groups had the opportunity to work on writing potential survey and focus group questions.
The concluding activity was an enthusiastic Jeopardy game about information provided in Parts 1 and 2.