Conference Plenary Videos Available!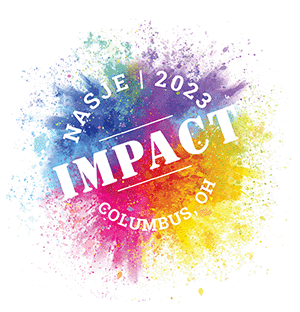 Find out how you can have 5 team members attend for the price of 4!

"5 for 4" Promotion for Large Teams Attending the Conference

Is your whole team coming to Columbus for the 2023 NASJE conference? Take advantage of the "5 for 4" offer!

Here's the process:

All 5 attendees must register online and choose "pay by check" as the payment method.
When all 5 team members have received their confirmation emails, send their names to Nikiesha Cosby at .

If appropriate, indicate the person who should receive the free registration

Nikiesha will then create an invoice for the reduced amount — $2,800 instead of $3,500

IMPORTANT: Please let Nikiesha know the name and email address of the person who should receive the invoice.

Your team benefits from top-notch education and networking at the only conference for judicial branch educators!
Theme & Agenda
As we're sure you know by now, our theme is IMPACT!
This year's comprehensive agenda has been crafted based on member feedback and features the following:
General Agenda
Conference Kickoff Workshop open to all members
President's Reception will include a Gallery Walk – showcasing the structure and offerings of NASJE member states and organizations
Brand-new Affinity Groups – network with those who do what you do!
Breakout session blocks each with a different focus, including action-driven workshops, teaching & learning topics, and a Project Showcase
Experiential Learning Opportunity – explore several empathy-building simulations and learn how to develop your own
IMPACT-focused plenary sessions on the Impact of Judicial Branch Education, Care & Feeding of Faculty, Meaningful Evaluation and Empowered Impact: Amplifying Your Potential for Influence
Invaluable networking opportunities, including meetups for all members on Saturday evening and Sunday morning, group dinners, and a Monday night social event at The Supreme Court of Ohio, a gorgeous Art Deco building
Get the FULL AGENDA (PDF) – Updated June 20, 2023
Justification to Attend the 2023 NASJE Conference
We all know dollars are tight and we are required to make a case for any significant expenditure, such as attending a conference out of state. To help out, the NASJE 2023 Annual Conference Committee drafted some justification language for you.
All the key conference details, including this justification language, are included in the conference flyer.
Justification Points
The National Association of State Judicial Educators (NASJE) has a nearly 50-year history of providing excellent professional development to those who create and provide education to the nation's judges and court staff.
The conference is a unique opportunity for judicial educators to learn how to do their jobs better and network with others in their field.
Education sessions are based on NASJE's competency areas, ensuring that judicial educators at all levels of experience will benefit from the sessions.
A combination of NASJE member educators and paid speakers is the perfect complement of relevant topics, professionally presented.
Planned by professional educators, the entire event is an education in best practices, from the conference sessions to the meeting arrangements.
The conference fee is competitive with other national conferences, allowing more of your staff to attend, within your budget.
We look forward to seeing you in Columbus in August!