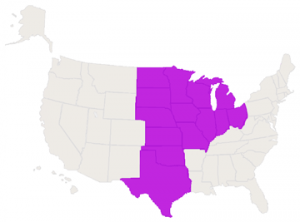 August 8, 2012, in Boston, Massachussetts
Members Present:
Lee Ann Barnhardt, North Dakota
Jennifer Wadsworth, Iowa
Jennifer Juhler, Iowa
Denise Kilwein, Kansas
Vicki Davis, Indiana
Joy Lyngar, National Judicial College
Kylie Burke, Texas
Amanda Sharp, Texas
William Brunson, National Judicial College
Margaret Allen, Ohio
Courtney Gabriele, Texas
Debra Weinberg, Ohio
Jill Goski, Minnesota
Julie McDonald, Indiana
Anne Jordan, Indiana
Bronson Tucker, Texas
Mark Goodner, Texas
Ann Jordan, Indiana
Agenda Items
Regional Webinars – Members agreed that we should continue to provide education opportunities for Midwest members through webinars. Potential topics were discussed. A suggestion was made that the webinars could focus on our own personal development through the use of short films or literature as an experiential component for a facilitated discussion. A session on eLearning was suggested along with a continued focus on the NASJE Curriculum Designs. Lee Ann will follow up with proposed dates and times. Members agreed that Tuesdays or Wednesdays will work best. An effort will be made to invite other regions to participate when possible.
NASJE 2014 Conference – The Midwest Region will host the 2014 Annual Conference in Chicago. As we do not currently have active members in Illinois, several members volunteered to act as "honorary" host and help with conference logistics. Those members are Ann Jordan of Indiana, Jennifer Wadsworth and Jennifer Juhler of Iowa and Kylie Burke of Texas. Lee Ann will serve on the education committee for the 2013 Conference to get a better understanding of what is required of the host and will work with the host committee as the 2014 date gets closer.
Service to NASJE:

Members were encouraged to serve on one or more of the NASJE committees. Anyone interested in serving should contact Lee Ann or Marty Sullivan, the new NASJE president.
Fundraising for the new endowment fund was discussed. All members are encouraged to make a donation to the fund. Member support will be a critical element when the fundraising committee seeks larger donations. Any members with ideas regarding fundraising or potential conference sponsors should contact the chairs of the fundraising committee: Claudia Fernandes or Tom Langhorne.
Members were encouraged to volunteer to serve as mentors or to request a mentor if they are new. We discussed the value of members with a background in education learning from those with a background in law. Those wishing to serve as mentors should contact Margaret Allen.
Many of the sessions at the 2012 conference were facilitated by members. Teaching is an excellent way to serve the organization. Margaret Allen and Michael Roosevelt co-chair the education committee for 2013. Anyone interested in teaching should contact one of them.

Around the Table – Members were given the opportunity to share successes from the past year or resources. William Brunson talked about the Human Trafficking program offered by The National Judicial College and the New Judge Orientation program that is now available online. Ann Jordan recommended Bill Hughes from Indiana as faculty for evidence. Debra Weinberg recommended faculty from Ohio for hearsay and ethics and cinema.
Good of the Order – A suggestion was made to consider holding an in-person Midwest Regional meeting at some point in the future. Lee Ann said she would follow-up on this idea and obtain more feedback from the entire region.