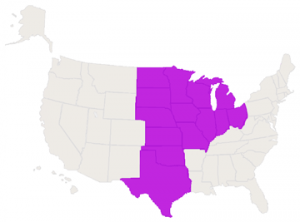 NASJE Midwest Regional Meeting, August 10, 2010 in San Antonio, Texas
Members present:  Jennifer Juhler (IA); Anne Jordan, (IN); Carole McMahon-Boise (NE); Karn Barth, (SD); Kevin Bowling (MI); Jill Goski (MN); Lee Ann Barnhart (ND); Phil Schopick, Christy Tull, Debra Weinberg (OH); MariKay Bickett, Ann Blankenship, Ryan Kellus Turner, Mark Goodner, Hope Lochridge, Cathy Riedel, Katherine Tefft, Joyce Francis, Tana Petrich, Marlon Drakes, David Hodges, Monique Gonzalez, L. Arnoldo Saenz, Jay Johnson, Lamar McCorkle, Dottie McDonald, (TX); John Newell, (NJC)
The meeting began at 8:15 a.m.
1.  Welcome and introductions
Everyone introduced themselves, including where they are from, and issues they want to explore at the meeting.  Texas was thanked for serving as the Midwest Regional Host for the event, and MariKay Bickett's upcoming retirement acknowledged.  She was asked if she was willing to give her "Cornerstones for Justice" presentation in other states; she provided her new email address in response. ()
2.  Sharing success stories of the past year.  Has the recession impacted your way of doing things; and if so, what has been your response?
Texas:  Staff from Texas made the following reports:
-Working with Law Schools across the state to develop an Evidence Summit for judges on a regional basis.  A panel was comprised of the Dean and a Professor from the law school plus a Judge, who was required to have graduated from that law school. The 1.5 day program brought good PR to the law schools and gave them a better understanding of the importance of judicial branch education.
-Good experiences working with the Department of Transportation for judicial trainings.  DOT also has funded public school education, wherein judges go into the schools and teach about the law.
-Videos have been developed over the years used for training of limited jurisdiction judges (non-attorney positions).
-Judges and Social Media―a foundational piece is needed―judges are recognizing the importance of having a social media presence.  The problem is ethics. Judge Dickson from D.C. and a judge from Nebraska do a joint primer.  NACM has mini-guides.
NJC reported on the partnership with SJI―one on NITSA, another on Financial Statements in the Courtroom. These programs have been in Florida, Alabama, and Nebraska.
North Dakota reported that they are sharing judge-faculty with their neighboring states.
Nebraska reported that when the recession hit, they had to cancel five live programs.  In their place, they developed a Webinar series.  The first one was on retirement, which was very popular, drawing people not otherwise interested in distance learning.   They also did a cooperative agreement for course development with the University of Nebraska at Omaha for court staff.  Court staff can earn college credit for taking these courses.
Ohio reported that Joseph Sawyer of NJC is our liaison to the Association of Public Information Officers.  That organization is also working on the guidelines for use of social media:  what are the ethics that impact the use; what research found on the web can be used; and can social media be used in the classroom.
3.   Where are we with transition to electronic materials?
ND provides conference materials on a flash drive and on an intranet system.  Texas reported on steps taken towards their goal of "white space reduction."  Over the past 3 years, they have transitioned from conference binders, to Power Point handouts, to a folder with a CD, to a flash drive, to all materials now are online one week prior to the first day of the conference. All agreed there are still barriers that exist as to use of electronic resources.
4.  2011 NASJE conference:  July 10-13; The Red Rock Inn, Las Vegas, Nevada
(Joint conference with National Association of Court Management)
Kevin Bowling and Christy Tull reported on the annual NASJE meeting for 2011 in Red Rock, Nevada.  It will be combined with the annual NACM meeting.  NASJE will have their own track of education courses.
Respectfully submitted,
Anne Jordan
Midwest Regional Director