by Brian MacKenzie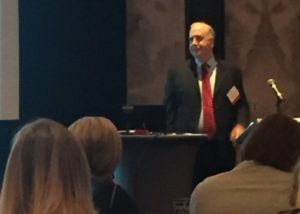 At the recent 2018 NASJE Annual Conference in Austin, Judge Edward Spillane delivered a session on the humanity of litigants. Judge Spillane is the Presiding Judge for the College Station Municipal Court in Texas. He started his session by explaining that change in a court's treatment of litigant too often occurs as a result of an unexpected, often catastrophic, series of events such as those in Ferguson, Missouri.
He suggested that there is a better, more thoughtful way to improve how courts treat individuals that appear in a courtroom. He argued for what he called a mindful approach to litigants. He suggested that judges who pay close attention to those who appear in their courtroom improved the experience for each person who stood before them. He called it "mindful judging."
This part of his presentation closely mirrored the four key principles of procedural fairness: voice, respect, neutrality and trust. In essence, he suggested that these principles can be taught to judges and embracing them would create a court culture that avoids the dangerous pitfalls like those that were highlighted in Ferguson.
Judge Spillane also suggested that mindful judging reduces judicial stress which in turn allows judges to do a better job in the courtroom.
In sum he suggested that the combination of procedural fairness and judicial stress reduction make for a better court experience for everyone.