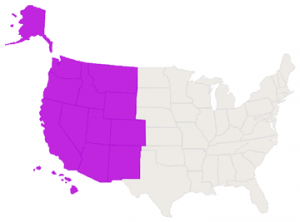 NASJE WESTERN REGIONAL MEETING REPORT
August 10, 2010
In attendance: Michael Roosevelt, Lisa Galdos, Diane Cowdrey, Claudia Fernandes, Gavin Lane, Todd Brower (CA), Evie Lancaster, Michael Bell, Wendy Schiller, William Brunson, Kelly Tait, Gordon Zimmerman (NV); Judith Anderson, Ileen Gertensberger, (WA); Paul Biderman, Pam Lambert (NM); Hon. Marsha Thomas, Kris Prince, Polly Schnaper, Rob Parks (UT); Jeff Schrade, Hon. Charlie Schudson (AZ); Hon. Karl Grube (FL).
The NASJE attendees from the Western Region enjoyed the chance to talk with their colleagues at the regional meeting. Attendees introduced themselves and provided a short description of what each person did in their various positions.
The Western Region's past year's accomplishments were reviewed; they included several conference calls and webinars. The first webinar offered highlighted the SJI with Jonathan Mattiello discussing the processes and procedures for courts seeking SJI funds andwhat SJI is looking for in projects. Two other webinars focused on innovative ways to use technology including inexpensive, free software and other software to enhance the delivery of education programs.
Discussion ensued regarding various funding partnerships including SJI funding to collaborate with other states in offering similar programs. Two such programs are the Institute for Court Management courses and law firms offering programs such as the "Holocaust." It's important to determine what program content would be of benefit for collaboration and then discuss delivery methods.
Regularly scheduled meetings via teleconference, videoconference, etc. will be held throughout 2010-2011 and are tentatively planned quarterly: October, January, April, June. Suggested topic ideas included follow-up on annual conference plenary sessions – such as Dr. Gary Marchant's – especially in light of continued advancement and use of technology in our society, and how we can extend the discussion from our meetings such challenges, successes, and further needs as a result of the topics and ideas; and core values such as ethics.
Several attendees shared about new and innovative ideas and programs in respective states. The following list highlights many of those ideas and programs:
AZ –AOC has moved their satellite broadcast programming to web broadcast using Granicus.com. This has opened a new horizon on the number of people reached. External implications to other states may be to collaborate use of AOCs facilities for another state's broadcast assistance.
CA – CJER is reconstructing the education committees and how to develop and determine what programs and products are going to be provided. The process will match content with appropriate delivery method. An AOC "brown bag" lunch session has been organized to share projects, specific programs, Q&A, etc. This provides further understanding of each division/staff responsibilities, fosters professional and interpersonal relationships and cohesiveness in collaboration efforts. Along this line, The Williams Institute (Todd Brower) offers a lunch time program for courts on sexual orientation topics such as Gay/Lesbian youth or questioning youth. The lunch time program offers the opportunity for "court specific" topics.
NV – The NCJFCJ has funding available to deliver education programs, such as domestic violence. NCJFCJ's partnership provides development of course content, materials and faculty and is funded by NCJFCJ. The partner state is responsible for event management, e.g. registration and all other costs related to the course, e.g. travel per diem. Dr. Gordon Zimmerman shared the increase of "retreats" being held by committees or groups of judges. They are a low cost idea and an old technique to revitalize and build rapport. The AOC held a pilot "brown bag" videoconference for court executives with budget and staffing as the topics.
NM – Some prior online training is being adapted for use on a national level. The training is asynchronous and the state develops the course context.
UT – The Utah Judicial Institute (Rob Parks) has transitioned education program modules to flash drives. The Justice Court Judges Education Committee (Hon. Marsha Thomas, Chair) has partnered with the state law library to provide videotaped judicial education programs to justice court judges on a loaner basis. The videotape is edited to make it as user friendly as possible however time constraints are an issue.
WA – The Judicial College on-site training program now has use of laptops connected to the court network, allowing for ease of course materials use and following along with the instructor. While participants in larger groups must provide their own laptop, they too have the benefit of the network.
Hon. Karl Grube, NHTSA representative, provided an update on NHTSAs outreach and discussed training funding availability.
The possibility of holding an in-person Western Regional conference was briefly discussed: The general consensus was to hold a conference, possibly in February 2011. A planning committee will be organized at a later date. Also, a survey would be distributed for further data gathering, such as location, date, and topic and faculty ideas.
IMPORTANT UPDATE: The next Western Regional webinar will be held October 22 from 10:00 – 11:30 a.m. PT. Dr. Gary Marchant will present Emerging Technologies and the Future of Law: Application to Judicial Education. Dr. Marchant will revisit his 2010 Annual Conference presentation and extend the discussion to how judicial educators might effectively incorporate the topic of emerging technologies into education programs for judges, attorneys and court staff.