By Jeff Schrade, Director of Education Services, Arizona Administrative Office of the Courts
NOTE: Jeff Schrade will lead a session on this topic at NASJE's annual conference in October in Seattle, where he'll be available to answer your questions and discuss Arizona's process.
Judicial educators create opportunities for transformative education that strengthens the administration of justice. One of the most important and valuable transformations we can facilitate is that from new hire to supervisor, manager, executive and beyond. It is just this sort of defined career pathway that attracts bright and justice-oriented individuals to a career in the courts. We also know that the courts sit on the edge of a demographic cliff, with Baby Boomers retiring in record numbers for at least the next decade. To face this challenge, we must recruit justice-minded individuals and keep them engaged in their work, while also developing professional competencies that prepare them for increasing responsibility and leadership.
In addition to these immediate demographic challenges, change itself keeps changing, and the pace of change continues to accelerate. We see this most visibly with rapidly-changing computer technology, but also with changing expectations from our communities as new drugs, crime trends, and treatment options emerge. Leaders in the judicial branch must be adaptable and pilot courts through a dynamic environment. In short, we need smart, creative, passionate, capable and well-prepared leaders who are committed to the profession of court management.
So how do we get there? We're presented with at least two different approaches: (1) we recruit from outside of the courts or (2) we develop leaders from within. While colleges of public administration and law can produce some court employees, there are too few formalized court management programs that teach the knowledge and skills necessary to effectively administer a court. Often even highly-qualified candidates from outside of the courts need significant training and development – for example on managing caseflow. These factors taken together convince me that our state courts will have to be in the business of developing leaders for the foreseeable future.
Leaders of the Arizona Judicial Branch also considered this conclusion over a decade ago along with other environmental challenges specific to Arizona:
Geography – Arizona is the 6th largest geographic state in the U.S. with over 60,000 miles of highway connecting a diverse mix of urban, rural, tribal and border communities.
State court structure – A decentralized court system with local hiring authorities creates needs that differ from court to court.
Competition from other sectors – An expanding job market in Arizona creates intense competition for new employees.
In 2006, Chief Justice of the Arizona Supreme Court Ruth McGregor established the Court Leadership Institute of Arizona to "develop meaningful, comprehensive management and leadership programs for current and future court leaders to use in advancing the administration of justice in Arizona" (AO 2006-69). Soon after, a committee of court administrators, judges, probation leaders and academics appointed by the Chief Justice began developing this leadership training program.
The committee initiated an intensive multi-year curriculum development project. Beginning with a fairly expansive needs assessment, the committee focused on developing a tiered-competency model with the first tier serving new supervisors, the second serving seasoned managers, and higher tiers serving those in executive management positions.
The committee focused a considerable amount of time identifying content areas and developing learning objectives for each tier, influenced by direct local input as well as by national models such as the National Association for Court Management (NACM) core competencies. It was only after the content areas and learning objectives were well-defined that the committee shifted focus to developing curriculum to meet the learning objectives. Fortunately the Institute for Court Management (ICM) had an existing national curriculum that met many of the learning objectives developed by the committee.
Arizona had been offering court management certification training programs locally since 1998 through a partnership with ICM. However, the existing arrangement couldn't scale to impact the potential audience identified in Arizona courts – there are approximately 10,000 employees and judges in Arizona's courts including 2,500 probation officers and support personnel. With many other states facing similar challenges, ICM formed a 7-state consortium to revamp its curriculum and create a model that would deliver national certification courses locally (to scale) in participating states.
As curriculum was developed for the ICM consortium, the Arizona Court Leadership Institute committee aligned the six manager-level ICM courses and six executive-level ICM courses to content areas and learning objectives in each tier of the Arizona program. However, the ICM courses did not cover all of the areas identified by the committee. The Education Services Division of the Arizona AOC developed new curriculum to meet these learning objectives:
Manager – 3 ½ days covering diversity, alternative dispute resolution, specialty courts, governance, inherent powers, civil case process, jury management, records management, probation management, court management functions, political activity and the role of courts in Arizona.
Executive – 1 day covering judicial independence and interdependencies, facilities management, and security and emergency management.
Additionally, the ICM curriculum did not cover general management and supervision skills necessary for new supervisors entering the first tier of the program. Realizing the crucial need for a first-tier leadership curriculum that prepares promising employees for advancement into management, the committee set out to develop a new stand-alone curriculum for new supervisors.
However, the committee soon realized that the quantity of courses needed for the entry-level supervisor tier was beyond the capacity of the Arizona AOC to produce. Coupled with the practical concern that most first-tier supervisors should not be away from their job assignments for extended amounts of time, this lead the committee to adopt a blended model with self-paced online courses for key content, and live webinars and in-person classes to practice, discuss and further develop supervisory skills.
The committee selected a mix of existing computer-based trainings produced by the AOC and off-the-shelf entry-level supervision courses from SkillSoft, a large private national learning provider. Participants take the self-paced online classes and complete worksheets that are submitted, along with a transcript of class attendance, to certify completion of the Arizona Court Supervisor program. Self-paced online classes cover conflict resolution, problem solving and decision making, coaching and employee relations, effective communications and meetings, team building and employee motivation, setting priorities, change management, purposes and responsibilities of courts, visioning and strategic planning, legal information vs. legal advice, and security/emergency preparedness.
The Supervisor program also uses live webinars and in-person classes to address complex topics, and to develop essential supervisor skills. Live webinars include transition to the role of supervisor and supervisory ethics. Four in-person classes lasting one or two days cover human resources management, supervisor's role in case management, essential components of probation supervision, leadership, role of courts, records management, public education, media, policy, organization, workflow processes and accountability.
Results
Although the committee discussed sending individuals through the program as a strict cohort, participants can complete courses in any order within a 7-year time span (required by ICM). Nevertheless, most participants complete the program together, forming a connection with one another that contributes to the effectiveness of the program. The Supreme Court hosts graduation celebrations for each tier that are usually well-attended by the families and professional colleagues of program graduates.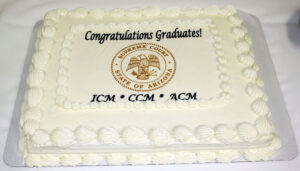 Recently many local courts have started to include this program's certifications as "preferred" in recruitments. We believe this provides great value to graduates of the program while at the same time strengthening the candidate pool for local court recruitment.
The Arizona Court Supervisor (ACS) program courses were offered starting in 2012, and the first class of 42 "Arizona Court Supervisors" graduated in March 2014. Today, the ACS program has 126 active participants.

The Arizona Court Manager (ACM) program courses were offered starting in 2008, and the first class of 48 "Arizona Court Managers" graduated in May 2010. Today, the ACM program has 75 active participants and a total of 169 court leaders have graduated from the program.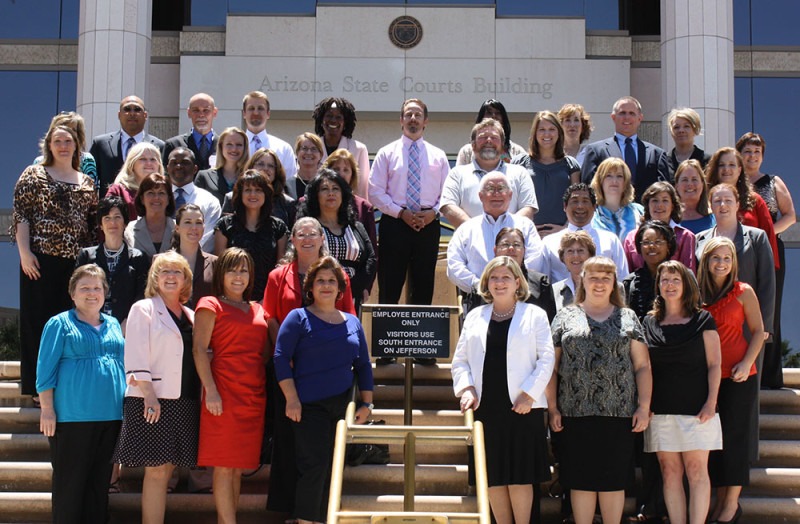 The Arizona Court Executive (ACE) program courses were offered starting in 2011, and the first class of 29 "Arizona Court Executives" graduated in November 2013. Today, the ACE program has 34 active participants and a total of 33 graduates.


The leadership program has also produced a remarkable increase in ICM Fellows from Arizona. The 2014 ICM Fellows class had 11 individuals from Arizona out of a total class of 19. This was followed by 3 Arizonans in the 2015 ICM Fellows class and 4 participating in the ICM 2016 Fellows class.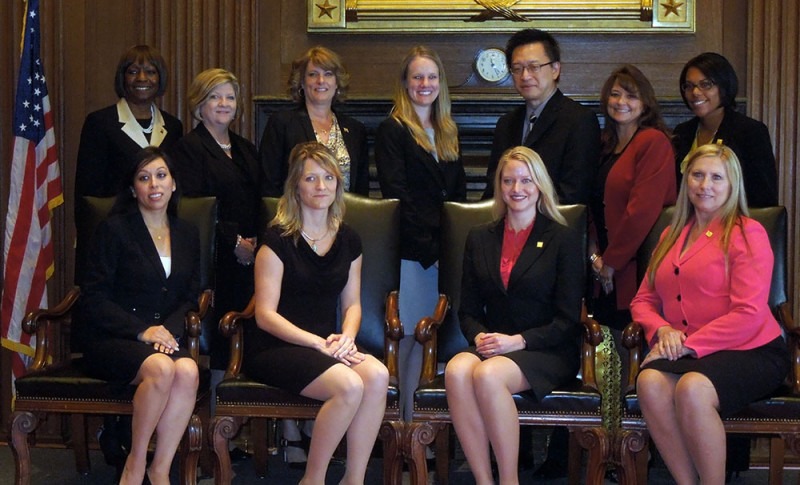 Leadership Pipeline
It is no surprise that the tiered design of the Arizona Court Leadership Institute is producing so many new ICM Fellows. In fact, retention and progression have emerged as tangible benefits of this model. As the figure below illustrates, the model provides a clear path for professional development from hire to achieving the highest professional certification as an ICM Fellow.
High-potential employees complete the Arizona Court Supervisor program in 18-36 months while making the transition from "bud to boss" and assuming supervisory duties. Successful supervisors can then enter into the Arizona Court Manager program – another 18-36 months of study. Experienced managers then continue to 18-48 months of the Arizona Court Executive program, and then on to the 2-year ICM fellows program. This path can take between 6 and 14 years, potentially spanning a significant part of one's career.
Each program requires an application to be completed by the participant, their direct supervisor and their court's chief administrative officer. This states an explicit commitment from the participant, their supervisor, and their court leadership to complete the program. Although not all participants in any given tier will advance to the next, the program taken together provides a powerful incentive for individuals to stay in the courts, and to continue developing as a leader within the profession.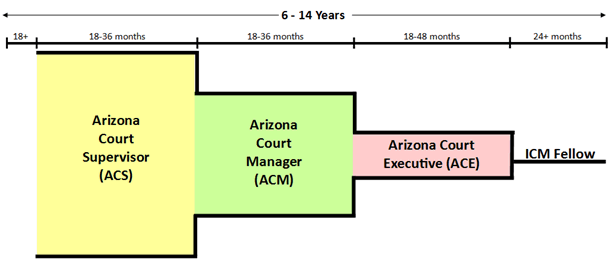 Sources/Resources
Cappelli, Peter. Harvard Business Review March 2008. "Talent Management for the Twenty-First Century." https://hbr.org/2008/03/talent-management-for-the-twenty-first-century
Charan, Drotter and Noel. The Leadership Pipeline: How to Build the Leadership-powered Company. Jossey-Bass, 2001. http://www.amazon.com/dp/0470894563
Colby and Ortman. United States Census Current Population Reports May 2014. "The Baby Boom Cohort in the United States: 2012 to 2060" https://www.census.gov/prod/2014pubs/p25-1141.pdf
Conger and Fulmer. Harvard Business Review December 2003. "Developing Your Leadership Pipeline" https://hbr.org/2003/12/developing-your-leadership-pipeline
Martin and Wagenknecht-Ivey. NCSC Future Trends in State Courts 2011. "It's a New Day: Future Trends Require Revolutionary Changes in Courts" http://www.ncsc.org/sitecore/content/microsites/future-trends-2011/home/Enhancing-Access/5-2-Its-a-New-Day-Future-Trends-Require-Revolutionary-Changes-in-Courts.aspx