by David Gordon, Director of Judicial Education, Nevada Supreme Court
NASJE President Jeff Schrade asked me to provide a brief glimpse of the Court Technology Conference (CTC 23) from the perspective of a judicial educator. Joining me at the event in Phoenix was Shyle Irigoin, also representing Nevada's Judicial Education Unit.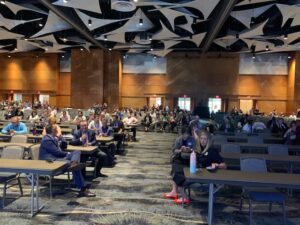 The first thing that struck me was the scale of the event. We were told that over 1600 participants were in attendance, and there were 315 seats in the breakout room where I spent most of my time. In a conference of such large scale, I found it interesting that the plenary spaces had limited, but apparently adequate, writing/working surfaces, while none were available in the breakout rooms. The NCSC app that we also use at the NASJE conferences was the key to staying informed and on track at such a large event.
I observed a heavy focus on Artificial Intelligence (AI) and its role in improving accessibility for litigants and court staff. As a judicial educator, I found the sessions that addressed applying limited resources and existing systems to help meet the courts' rapidly evolving training needs particularly valuable.
Cybersecurity was also front and center at CTC 23 during a time when the news was covering a near-shutdown of major Las Vegas casinos due to hacking.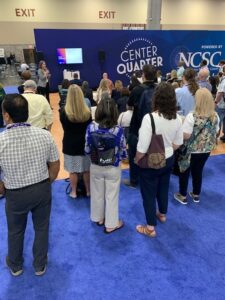 Most of the breakout sessions I attended were in the track titled "Remote Justice", which had a strong emphasis on improving access for court clients and presenting court processes in a more user-friendly way. Additional tracks were available on Digital Court Transition and Data Management.
Exhibitors were a key part of CTC 23, and the NCSC held a number of brief Solution Showcase Sessions in the Exhibit Hall. Those companies that have products and services tailored for court educators emphasized the flexibility of their resources and their dual role as "force multipliers", allowing a limited education unit to expand its outreach.
Throughout the conference, we identified several technology tools that will help us address the educational needs of judges and court staff. We were presented with perspectives that were new to us, and I had the opportunity to make contact with a whole new group of potential faculty and event exhibitors.
I will definitely request budgeting for future attendance, so I and other members of Nevada's Judicial Education Unit can stay current on the latest resources.