by Kelly Tait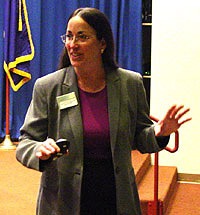 "What do you want your legacy to be?" I started getting this rather intimidating question during my year as NASJE's president-elect. It made me feel each time as if someone had just said "You're It!" in a game of tag … and it made me think.
Upon much reflection, including participating in a "planning to plan" Board meeting facilitated by Karen Thorson last February, I refined my answer: I want my time as president to be about growth and development, in the most positive senses—healthy growth of membership, enhancement of value to existing members, and development of NASJE's presence in justice system education.
Obviously, achieving these goals will require input and effort from all of us. I'm asking for your help on them.
We're already in the process of making positive changes, starting with some adjustments to our website. The Board decided to combine the two separate committees in charge of NASJE News and the website into one: the Communications Committee. The streamlined approach should help us develop and maintain a more consistent NASJE "brand." We also will have much more frequent updates to the newsletter portion of the website.
We've responded to feedback from the general membership saying that the existing Members Only site was not optimal in terms of access and use. So, we've created a new Members Only site linked to this webpage which has been designed to change that. NASJE members will be emailed the password for the new Members Only site in the near future. Among other things, survey results from our online poll of NASJE members about our vision, mission, and values will be available there.
Related to this survey and to the plenary session "Judicial Educators as Change Leaders" at the 2014 Annual Conference, we are gearing up on the continuation of our strategic planning process. NASJE members who are interested in being particularly instrumental in this effort should join the Strategic Planning Subcommittee–please contact me () if you're interested. There are other committees you also should consider being involved in; for a list of NASJE's committees go to the pull-down menu (on the upper left on this website): "About NASJE" > "Committees."
Thanks to the dedication and efforts of NASJE members, these committees continue to make a difference. A great example of this is the work the Education and Curriculum Committee has done in conjunction with the Diversity, Fairness, and Access Committee to finalize a draft of the Diversity, Fairness, and Access Curriculum Design for approval by the Board. That curriculum design will be available shortly.
Don't forget about the premium NASJE resources already at your fingertips — curriculum designs for the other eleven core competencies continue to be available on this website. Go to the pull-down menu (above): "Resources" > "Curriculum Designs."
Another NASJE committee that has been quite active this fall is the Membership and Mentor Committee. This committee, along with the Board, has made it a goal to have NASJE members from every state and every key national organization/provider. We'd appreciate your assistance in identifying people who would be positive additions to NASJE.
Save the date: Our Annual Conference Committee is already hard at work on the 2015 Annual Conference, which will be in gorgeous Seattle, Washington, on October 4-7, 2015. Note the date—it's later in the year than usual for us because it is a collaborative conference. Look for updates about the conference on this website.
NASJE's influence has been felt in relation to other organizations, as well. NASJE members stepped up to provide input from the educational perspective on the National Association for Court Management's core competencies ("The Core"). In the final version, Educational Development is listed as a core competency. Many thanks to all NASJE members who provided input to help achieve this and to enhance our working relationship with NACM. The final update of NACM's core competencies is now available at http://nacmcore.org/.
Regional Directors will be planning regional meetings (mostly webinars) soon. Feel free to contact your Regional Director for more information (contact information is listed in the pull-down menu "About NASJE" > "NASJE Board").
As you can tell, NASJE has opportunities to be involved in many ways; as a volunteer organization, we need a lot of member engagement to realize our potential. This profession is special in that our positive impact can have a ripple effect, influencing not only the people with whom we have direct contact, but also the many other people whose lives are impacted by anyone our education and programs have touched.
The entire NASJE Board wholeheartedly welcomes your input and participation! Help us make a difference. Please contact me at with ideas, questions, and comments.
We all need to answer this question: What do you want your legacy to be?