By Jesse Walker (WA)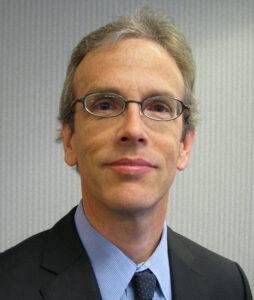 The fusion of technology and education is Joseph Sawyer's passion and charge at The National Judicial College. His position as Director of Distance Learning places him on the edge of change and transformation continuously. As a member of the College staff since 1986, and long-time National Association of State Judicial Educators (NASJE) member (he has served as past President of NASJE and is the current Western Regional Director), he has seen many changes in judicial education throughout the years.
One of the biggest changes he described is the natural evolution of judicial branch education over the years. More and more states have adopted professional standards for course content, instructional techniques, and delivery, and in chorus, NASJE's membership has grown significantly to meet these standards. The work on the curriculum designs helped establish NASJE as a professional organization both nationally and internationally, and created a foundation for the work of judicial educators.
Technology also took root in judicial education and became a constant force, stimulating new growth in tactile learning and expanding the educational prospects of both NASJE and the courts. Joseph dedicates his days to building the bridge between the bench and technology, helping judges take advantage of the ability to sign orders, review warrants, or view case files electronically. Many law schools have even instituted online learning programs with the expectation that information is at our fingertips now more than ever. Innovations have made way for us to blend modalities, create new platforms to reach a broader audience, and make significant advancements in accessibility.
However, Joseph notes that technology still tends to scare people. It can be an educational barrier and we must pay close attention to how each generation perceives learning in this way. Now, more than ever, it is important that we embrace our role as judicial branch educators in providing a level of support that makes learners feel like they will succeed and not be embarrassed in the process. Joseph's advice for the non-techie educator is to be a self-starter, "If you don't understand the technology, buy a book or take a class—don't allow the fear to take over. Throw yourself into whatever resources are available. In order to be successful in our roles, we all must be lifelong learners and experience the merge of technology with education and understand how to turn a classroom training into an online model, while tailoring it to the nuances of the judicial branch."
The judicial educator position itself has also significantly evolved. In the 1980s and 1990s, judicial educators were primarily lawyers. However, like judicial education's scope, the educator's competencies have grown in tandem with those of the judicial officer. The role now demands a greater range of knowledge, skill, attitude, and ability. Today's educator must have a strong grasp on adult and continuing education, judicial administration, and the law. Joseph muses that "no one grows up wanting to be a judicial educator and most prospective candidates come to the table with only part of the package. We are required to pick up the others on the job as we go. Our experiences, and NASJE's curricula and education, make the development possible."
As we began to talk about the future, Joseph observed that budgets have impacted judicial education most significantly. Even with revenues picking up, overall legislative support for judicial education is still lacking and the judicial branch is not held in the same regard as the other branches. This absence of respect remains a barrier to many of us in fulfilling our missions and responsibilities to the courts and has affected our membership. Involvement has decreased in some of the hardest hit areas of the country and we need to recover our active status.
Joseph reassured that through our efforts in judicial education, we can encourage judges and help them speak up in their communities about its importance not only to the effective and efficient operations of the judiciary, but to each and every one of our lives. Our role is pivotal in the successful navigation of future change, both helping to gently guide our learners forward into the advancements of our fast-paced world and in helping our stakeholders gather support to nurture the process. Joseph also anticipates this will require NASJE members to focus more attention on the evaluation of judicial education as a means to achieve support. He sees evaluation and data as key to demonstrating the impact of judicial branch education and achieving greater understanding and respect for the field.
As for his own future, Joseph plans to continue helping others adapt to online learning, both nationally and internationally through organizations such as the International Organization for Judicial Training (IOJT) and the Online Learning Consortium, and nurturing other entities, educators, and resources in their passions and missions to help the world. He emboldens us all to take an active voice in judicial education's future, to promote respect, trust, and confidence in the judicial branch: at home, in schools, and in partnership with our courts and communities.