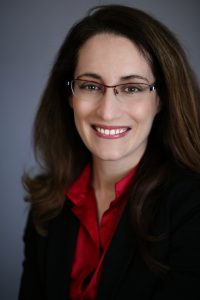 1. What was your path to judicial education? I am an attorney and started working at the Wyoming Supreme Court in 2013. Originally, I was the Wyoming Court Improvement Program (CIP) director, but in November, 2016, my job morphed into the Director of Legal Resources and Judicial Education, a brand new position.
I now help manage our State Law Library, Judicial Learning Center, Court Improvement Program and Judicial Education. Wyoming is experiencing a significant turnover in our judiciary due to judicial retirements, and our state has made judicial education a top priority, hence the creation of my position.
2. How long have you worked at your organization? I have worked for the Wyoming Supreme Court for almost 4 years.
3. If you could do another job for just one day, what would it be? I would like to be a movie director.
4. What do you like to do when you're not at work? I like to spend time with my family (I have a 5 and 6 year old), golf, run, garden and hang out on our family ranch.
5. What's your favorite movie? Tremors.