Nikiesha Cosby, an association manager with the National Center for State Courts and the secretariat for NASJE, recently received the Florence McConnell Award from the National Center.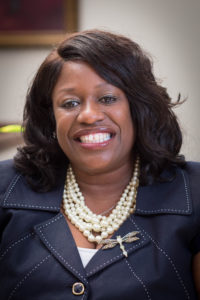 The award honors former employee Florence McConnell and goes to the employee whose interaction with the courts and with fellow employees creates an atmosphere of trust and respect. The recipient not only maintains a high level of professional performance but also is supportive of colleagues in their personal challenges.
Cosby began working for the National Center in 2006 as an administrative specialist and was promoted to program specialist before becoming an association manager in 2016.
NASJE President Tony Simones said Cosby is most deserving of the recognition.
"Most NASJE members only see Nikiesha at our annual conference, where she is instrumental in ensuring our success. What they don't know is that Nikiesha works behind the scenes throughout the year, engaging in problem-solving, providing essential guidance and fielding calls from the President of NASJE on a disconcertingly broad array of issues," said Simones. "She performs these miracles without ever losing her good humor and wonderful outlook on life. We are blessed to work with her and to know her."