By Jennifer Wadsworth
Educating and training court personnel is every bit as important as educating our judges, but often it gets less airtime. So NASJE News is launching a new feature category exclusively dedicated to education for court personnel, starting with this article.
In preparation for the launch, I surveyed NASJE membership to learn about the types of education we collectively provide to court staff. The survey received 35 responses representing 24 states and the District of Columbia, the province of Ontario, and two national agencies. Many thanks to all of you who took the time to respond.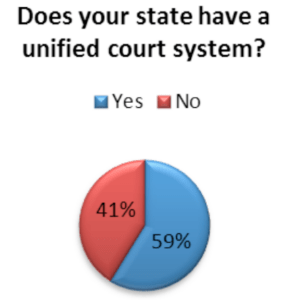 Nearly 89% of respondents indicate they support the education and training of court staff. However, the percentages of budgets dedicated to court staff range from less than 5% to 100%, so it's clear that the degree to which court staff are supported ranges widely. Whether courts are unified or non-unified also impacted responses. Approximately 59% of respondents indicate they work in a unified court while 41% do not. Additionally, some respondents only support a small portion of court staff, such as a specific job type, rather than all staff; and some respondents are dedicated to supporting court staff only while their peers are assigned to support judicial officers.
Slightly more than half of the respondents indicate their court has mandatory education for all court personnel. Some of these requirements seem to be supported by statute while others are court policy. Some of the mandatory education includes ethics, discrimination, diversity, harassment, new employee orientation, and supervisory skills. Primarily, though, requirements seem to be based on the model of continuing education hours per year. The reported required hours ranges from 6 to 20.
Sometimes, requiring mandatory education for staff can be complicated when staff work under labor contracts. Twenty-seven percent of respondents indicated some portion of their staff is unionized.
Distance education is getting a lot of play in state courts for a variety of topics. Seventy-two percent of respondents have used synchronous distance education, such as webinars and phone or video conferencing, and asynchronous education, such as on-demand computer-based training or videos. However, small group and conference-style live education is still very much the core of most education programs.
The topics of interest to court employees vary widely, from computer skills to customer service, from CPR to court security. The good news is that court staff personnel are getting a wide variety of educational opportunities in many states!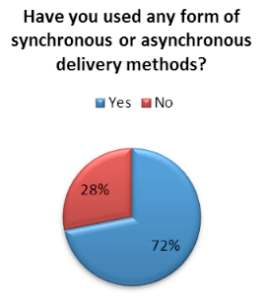 Over the next five years, respondents feel that a variety of technology topics will become increasingly important, from learning to use an e-filing system to understanding how social media can impact the court system. Many people commented that electronic delivery of content will also become important as the time and money available for traveling for live training dwindles.
Comments also indicate education that helps increase retention and succession planning may be forefront in educators' minds, such as management skills, motivation and wellness, respectful behavior, diversity, onboarding, etc. There is a strong leaning toward increasing an employee's breadth of knowledge – understanding why they do what they do and how it is important – rather than just on specific, task-oriented knowledge and skills learned in great depth.
As a disclaimer, I must say that the observations made in this article are based solely on the responses to the survey and may or may not be representative of state courts in general. In fact, one truth this survey did reveal is that state court education programs run the gamut from well-developed to "barely there," and while many courts are interested in similar topics, they may not be interested in them at the same time and may approach them in very different ways. The world of state court education is one of "wondrous variety."
The raw data from the survey is available on the members-only website for your review. If you did not get the chance to complete the survey, it will remain open at http://www.surveymonkey.com/s/WB5CDM3 for you to contribute to our data collection. Updated copies will be added to the members-only site periodically.
The next article in this series will examine how state courts educate non-law trained staff on concepts of government, civics, and the role our court system plays in society. If you are willing to discuss the challenges you've faced in this area, relate your experiences teaching these topics, or share course content you've developed to address this need, please contact me at .
Jennifer J. Wadsworth serves as an educator in Iowa's Judicial Branch. As part of a small Education Division, she does a little bit of everything. Her focus lately has been on eLearning design and on-demand facilitation.
Jennifer graduated from Iowa State University with an M. Ed. in Adult Education, Curriculum Design, and Training & Development. While in college, she served on the board of the student chapter of the American Society for Training and Development (ASTD) for several years and later served as president of the Hawkeye Chapter in Cedar Rapids, Iowa. As president of the Hawkeye Chapter of the American Society for Training and Development (ASTD), Jennifer and the board designed, obtained funding for, and taught a Train-the-Trainer seminar for the community to promote the use of Adult Education principles in local businesses.
During her fifteen years in the education field, she has worked as a trainer for a variety of organizations, including software companies, business coaching groups, educational institutions, and both state and federal government. Though she frequently teaches technology skills, she has also designed new employee programs; taught communication, management, and change leadership courses; and written numerous newsletter articles, job aids, and other training documents.