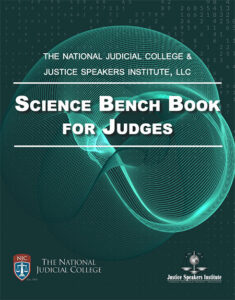 Judges are the guardians of our system of justice, but forensic developments in the last 50 years have made their jobs significantly harder. However, judges do not need to become scientists in order to make appropriate evidentiary decisions about scientific evidence. Rather, they need to have a detailed understanding of their role in admitting scientific evidence.
To achieve this, the National Judicial College and the Justice Speakers Institute are pleased to present a new online resource, Science Bench Book for Judges, to assist judges in making their rulings.
To help understand the book, several of the distinguished authors of the Bench Book will deliver eight webcasts in July, August, and September, with the first occurring on July 9. Thanks to funding from the State Justice Institute, the Bench Book and the webinars are offered at no cost to judges.
Please invite your judges to join the webinars. All webinars are at 12pm Pacific/3pm Eastern and will last 75 minutes. For more information, visit the NJC website.