By Kelly Tait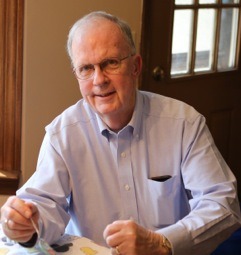 Learning about Larry Stone's contributions to NASJE and to judicial branch education overall is a revelation to many of us who joined NASJE after his more than thirty years of service in our field.
Larry impacted our profession in profound ways. It's telling that the first two recipients of the Karen Thorson Award, Karen M. Thorson (obviously also for whom the award was named) and Dr. Maureen E. Conner, wrote glowing letters of support for Larry's nomination for the award.
Karen Thorson, who identified Larry as one of her mentors, said, "His style has always been 'servant leadership' and his approach has always been based on kindness. Larry represents the delicate balance that judicial branch educators need – a knowledgeable practitioner who can lead an organization forward and an approachable individual ready to work with anyone and everyone for a stronger future. NASJE and judicial branch education today bear Larry's fingerprints. He shifted our direction, enlarged our vision, and embraced a hoped-for future that has helped shape the association. Whether they know it or not, judicial branch educators of today are the beneficiaries of Larry's work."
Larry spent twenty years as Executive Director of the Ohio Judicial College, creating the foundation for Ohio's strong continuing presence in NASJE and in the field as a whole.
The breadth and depth of Larry's service to NASJE is inspiring. From 1986-1995, he served on the NASJE Board in every position. His contributions in his time as President (1992-94) were highlighted as particularly significant. According to Karen Thorson, this was a time when NASJE and judicial branch education were in a state of transition and rapid change, with education for judges getting more complex, education for court staff taking root, and the association changing in terms of the number of members and the composition of membership.
During this time, he was instrumental in improving NASJE's relationships through a collaborative approach with other court-related organizations (such as CCJ, COSCA, NACM, and NJC). He also planted the seeds for changes such as:
implementing a mentoring program for new judicial branch educators;
changing membership categories and requirements to reflect the field and demonstrating a highly inclusive attitude;
formalizing and documenting policies and procedures to give committees and leadership guidelines for decision-making and activities; and
engaging a secretariat so the association's volunteers were not overburdened.
Larry served the profession in other ways, as well, such as being instrumental in the development of and contributions of the Judicial Education Reference, Information and Technical Transfer (JERITT) Project over its seventeen years of active service.
As Dr. Maureen Conner, Director of the Judicial Administration Program at Michigan State University and 2013 Karen Thorson Award winner, said, "When I think of NASJE, I think of Larry. He continually put NASJE and judicial branch education in a high-profile position. Through his efforts, NASJE could not be ignored. Through his efforts, judicial branch educators always had 'a seat at the table' when big decisions were being made."
The Karen Thorson Award provides us with the opportunity to recognize the contributions of someone who is an inspiration, whose work continues to influence our field.
Phil Schopick, Education Program Manager for Ohio's Judicial College, said in his letter nominating Larry for the award, "Larry Stone is one of a select group of people who not only did a tremendous amount to increase the impact of judicial education in the United States, but also contributed with his whole heart to the growth and success of NASJE as a vehicle toward this goal."
Larry Stone is the embodiment of the qualities the Karen Thorson Award recognizes: a deep, abiding positive influence on our organization and our profession. The award will be presented to him at NASJE's 2015 Annual Conference in Seattle (October 4-7).
The video of Larry receiving his award is below.