by Lee Ann Barnhardt, NASJE President
When I heard that former world No. 1 tennis player Andre Agassi was going to be the closing speaker at the Conference of Chief Justices mid-year meeting in January, I honestly geeked out just a little. I am a big fan and was looking forward to meeting him. My second thought was what could the chiefs possibly learn from a tennis star who was a 9th grade dropout? Surprisingly, I learned quite a few things from his fireside chat.
Love what you do. Agassi reached the world No. 1 ranking for the first time in 1995, but said he found no joy in the game and actually hated playing. He felt obligated to play the game that was thrust on him at a young age by his father, an Iranian immigrant. His attitude toward the game led to personal issues, including drug use, and he sank to world No. 141 in 1997, prompting many to believe that his career was over. After coming to terms with the game and learning to play for himself, Agassi returned to world No. 1 in 1999 and enjoyed the most successful run of his career over the next four years.
Have a passion. Agassi's passion post-tennis is education. Andre created the Andre Agassi Foundation For Education in 1994 and has been hands-on every step of the way – from envisioning and creating Agassi Preparatory Academy in Las Vegas and continuing to engage with its students, to raising funds to support public charter schools and advocating for changes in public education. He said that making a difference in children's lives is his life's work. Agassi sacrificed his own education for success on the court, but saw education as the key to opportunity because giving kids education gives them options.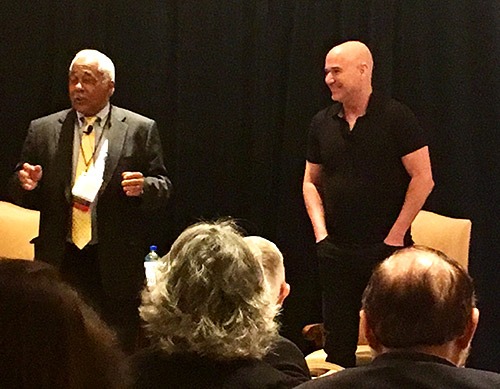 Know your strengths. After successfully graduating 9 senior classes, Agassi Prep made the decision to turn over operations to a high achieving charter management organization. Agassi said he made this decision because he realized that he was not an educator and was not a school administrator. As much as he wanted to be part of the daily operations, he knew it was not a sustainable model. He said he had to figure out what he was good at, besides playing tennis, and use that strength to accomplish his goals. Agassi told the chiefs that his gift was being a facilitator, connecting people with needs with people with assets.
Leverage your resources. Since the inception of the Andre Agassi Foundation more than $180 million dollars has been raised to benefit the mission of the foundation. In 2007, along with several other athletes, Agassi founded the charity Athletes for Hope, which helps professional athletes get involved in charitable causes and aims to inspire all people to volunteer and support their communities. He most recently created the Turner-Agassi Charter School Facilities Fund. The Fund is an investment initiative for social change, focusing on the "nationwide effort to move charter schools from stopgap buildings into permanent campuses." The Turner-Agassi Charter School Facilities Fund meets the facilities challenge by acting as a "bridge developer" for charter schools. Turner-Agassi serves school operators by taking the lead on site selection, acquisition, design and construction and providing 100 percent of development costs. School facilities developed by Turner-Agassi are then leased to school operators, who can then purchase the sites once they reach full occupancy. It has funded 79 campuses for high-performing charter schools. Agassi said the investors have recouped their initial funds and are now recycling that money to assist an estimated 85 more campuses.
While I will always think of Agassi as the brash young tennis player with the long hair and the rock-star attitude, I will not forget the lessons I learned from the man with a passion who is willing to use his celebrity for the greater good.