Registration for NASJE 2019 opens in early June. Click through to the video for some great reasons to attend.
WELCOME TO THE MILE HIGH CITY! Registration is now open for NASJE's Annual Conference, which will be held in Denver, Colorado, on October 18-21, 2019. The conference will be held at Ralph Carr Judicial Center with pre-conference events and lodging…
When I took office last year, I was asked repeatedly about my agenda as President of NASJE and what I hoped to accomplish. I struggled to provide an answer. My initial inclination was to say, "Continue the great work and follow the lead of the talented people who came before me." My second reaction was even shorter and less impressive: "Try not to screw anything up." But the more I thought about it, the more an answer began to materialize. I wanted to work to ensure that NASJE would continue to be the resource to others that it has been to me.
Nikiesha Cosby, an association manager with the National Center for State Courts and the secretariat for NASJE, recently received the Florence McConnell Award from the National Center. The award honors former employee Florence McConnell and goes to the employee whose interaction with the courts and with fellow employees creates an atmosphere of trust and respect. The recipient not only maintains a high level of professional performance but also is supportive of colleagues in their personal challenges.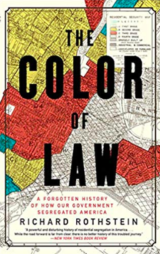 Richard Rothstein's thesis is that local, state, and federal laws, rules and policies deliberately caused segregation in public housing, beginning primarily around World War II when severe housing shortages for war workers caused the government to build public housing in large numbers where war industries existed. While the common supposition is that housing segregation is a result of people choosing to live in segregated neighborhoods, Mr. Rothstein argues that segregation in housing is in fact a result of laws and policies of the government. His arguments are compelling and are a lesson for everyone in the court system, in fact for all citizens, about why housing segregation really happened, and what might be done about it.
The National Association of State Judicial Educators is launching its Vision 2020 Campaign with a membership survey developed by the organization's Membership and Mentor Committee. The goal is to collect data on ways NASJE can better meet the evolving needs of its members. Once compiled, the board and NASJE's committee chairs will use the data to improve the organization and the services it provides. A full report will be made available to members at the 2019 Annual Conference in Denver.