Registration for NASJE 2019 opens in early June. Click through to the video for some great reasons to attend.
In the Colorado Court Services training unit, new trainers undergo "Training Boot Camp" to learn and master training delivery skills and methodologies. From there, they graduate to "Special Ops," where they continue to refine their development techniques, as well as identify new approaches, with their fellow specialists.
Walking into a conference as a new member can be intimidating, so the Membership and Mentor Committee wants to take a little of that fear away by offering new members or first-time attendees a conference buddy for the 2019 Annual Conference in Denver.
Performance coaching, executive coaching, skills coaching, life coaching. What do courts need in the realm of coaching, and why should judicial educators consider adding coaching to their courts' repertoire of training? In their session, "A Coach Approach: Sustainable Change for Judicial Branch Leadership," NASJE members Leslie Gross and Nancy Smith will make the case for implementing a coach approach for court leaders involved in personnel management and other leadership arenas. Smith and Gross are trainers, coaches, and owners of Sustainable Change Coaching, which they founded this year in the hopes of helping court leaders become better people managers and leaders.
At the annual conference in October, NASJE's newest Board members will be sworn into office. Candidates are recommended by the membership to NASJE's Nominating Committee, chaired by Past President Lee Ann Barnhardt. Other committee members (representatives from each region) include Allison Gallo (Delaware), Ben Barham (Arkansas), Tom Langhorne (Utah), and Margaret Allen (Ohio). Ms. Barnhardt also serves on the Diversity, Fairness and Access Committee, and all committee members are tasked with promoting diversity of the slate of candidates. The committee will be reaching out to the membership requesting recommendations for individuals who might serve in NASJE leadership positions.
On July 17 and July 30, 2019, NASJE's International and Diversity, Fairness, and Access committees are sponsoring webinars available to all NASJE members. Information on the webinars is below, registration is available on the members only page.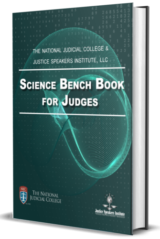 Judges are the guardians of our system of justice, but forensic developments in the last 50 years have made their jobs significantly harder. However, judges do not need to become scientists in order to make appropriate evidentiary decisions about scientific evidence. Rather, they need to have a detailed understanding of their role in admitting scientific evidence. To achieve this, the National Judicial College and the Justice Speakers Institute are pleased to present a new online resource, Science Bench Book for Judges, to assist judges in making their rulings.