Review written by Nancy Fahey Smith, NASJE Western Region Director and Field Trainer for Arizona Superior Court in Tucson, Arizona.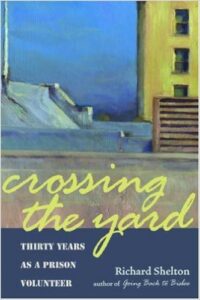 GET IT AT AMAZON
A couple of times a year, the training division at the Arizona Superior Court in Tucson, AZ, sponsors a book club for continuing education credit, led by NASJE member Nancy Smith. In May of 2016, Club Read members met to discuss the book Crossing the Yard, by Professor Richard Shelton (2007, University of Arizona Press). If ever there was a book perfect for law and literature, for both court staff and for judicial officers, this profoundly compelling memoir about prisons is it.
It is difficult to discuss prison conditions with just about anyone. Some are convinced that crime deserves prison, the more time the better. Others are appalled by statistics that reveal the huge number of prisoners in America. Politicians talk about being tough on crime, parents talk about spending more on education instead of on prisons. Private prisons seem to be having a heyday. Recently, much has been made of the number of minorities in American prisons, and the long sentences they serve compared to Whites. We are scared by recidivism rates, yet unwilling, it seems, to spend scarce resources on programs to prevent it. As court personnel, exposed daily to crimes against society, it is easy to become jaded about prison and prisoners.
Few of us, however, have actually spent any real time in prisons. Perhaps we have had a tour, or maybe even visited a relative or friend there. In reality, we don't understand what it is like to be in prison.
Unlike most of us, author Richard Shelton has spent many hours and days trying to help prisoners. In fact, he has spent more than 30 years leading creative writing workshops in Arizona's prisons. Week in and week out he travels to remote and horrifying locations, working tirelessly to develop real writers out of inmates willing to learn. Along the way, he learned that prisoners are people, and many of them are enormously talented people who made bad mistakes in their lives and landed in prison.
Professor (emeritus) of Creative Writing at the University of Arizona in Tucson, Shelton wrote Crossing the Yard, a memoir of his experiences in Arizona prisons and full of stories that will inspire and disgust readers, with the goal of enlightening people to what really goes on inside prisons. He began trekking to the state prison in Florence, AZ after receiving a letter from a particularly infamous prisoner who asked Shelton to critique his writing. While many of Shelton's adventures are downright scary, others are full of humor and hopefulness. The prisoners in Shelton's workshops taught him many lessons, especially to be patient, forgiving and kind.
Shelton writes "Oh, these men in orange. I've learned more from them than I ever taught them, and it's been good stuff…They have taught me to be patient; never to whine no matter what; to expect the worst and be happy if I get anything else; to be loyal, to be forgiving, to be kind. They have taught me that we are all law breakers and we are all victims of crime. They have taught me that growing old is no disgrace, but that a youth, wasted in prison, is a disaster." (p. 227) Several of Shelton's inmate students became published authors, like Jimmy Santiago Baca and Ken Lamberton, and more than a few became his friends. More often than not, workshop members found a reason for living and for staying out of trouble once released.
What really angers Shelton is the inhumane way prisoners are treated: "I want to put my head down on the table in front of me and weep with a pain that will not be comforted and a rage I cannot express." (p. 232) He finds prison administrators inept and uncaring; prison policies arbitrary, ineffective, and cruel; the conditions horrible and inhumane; and the bureaucracy impossible. He rages that society simply throws so many people away, when after spending time with them Shelton finds that they are human beings deserving of forgiveness. He is not so naïve to believe that all prisoners are redeemable, but he believes that many are and all should at least be treated with dignity and respect while imprisoned.
Crossing the Yard provoked much soul searching when we discussed it in the Superior Court book club. Members of the group were overall pretty appalled at what they read, and came away with altered perspectives about those they see put away every day in their jobs. The group was surprised at the prevalence of drugs and racism in the prisons, but not really at the number of mentally ill serving time. Shelton's stories and examples convinced group members that prisoners deserve a second chance to be contributing members of society. Prison does not have to be a place that destroys a person's humanity, and many prisoners can be redeemed given the chance and the resources. Professor Shelton's workshops provided just such a resource to its members.
Most of all, Shelton's book taught group members what prison is really like for most prisoners. The picture is not pretty.
Professor Shelton writes very well and is a wonderful storyteller. The grim stories are interspersed with heartwarming stories of success and plenty of good humor. He also provides a reading list, and those who take the list and read the writing of workshop participants will be amazed at the powerful poetry, prose and art that leap from the pages of their work.
With sentencing reform and prison reform currently on the agenda in many states and at the federal level, a book like Crossing the Yard can serve to illuminate why such reforms are vital. As judicial branch educators, we are always on the lookout for essential learning resources to guide our work. Crossing the Yard by Richard Shelton is one such resource.
NAJSE members can access the discussion questions created for the Book Club discussion in Tucson, as well as a link to a PBS video interview of Professor Shelton on the Members Area of this website.