by Kelly Tait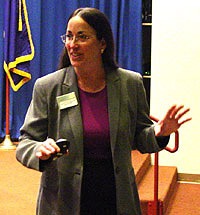 NASJE's 40th Anniversary Year!
In 1975, six state judicial educators met and formed this association that now has about 170 members from most of the states as well as from several national organizations and other countries. The Board and NASJE's many committees are working hard to make our 40th year a great one, with an emphasis on increasing benefits to NASJE members as well as raising the organization's profile.
We will be doing a series of webcasts for all NASJE members throughout the year. The upcoming webcast on the critical topic of Needs Assessment will be on March 18 at 12:00 noon PDT/ 1:00 pm MDT/ 2:00 pm CDT/ 3:00 pm EDT. Professor Gordon Zimmerman and former NASJE President Robin Wosje are the illustrious faculty for this webcast. We hope you will join us! (See the calendar on this website to sign up for it.) Our thanks to The National Judicial College for generously continuing to support NASJE's webcasts, including this one.
Save the date: Our Annual Conference Committee is putting together an excellent Annual Conference for 2015, which will be in gorgeous Seattle, Washington, on October 4-7, 2015. Note the date—it's later in the year than usual for us because it is a collaborative conference. Take a look at the preview of the conference on this website.
The "NASJE Newsletter" celebrates its 30th anniversary this year. Obviously there have been major changes over the years with the evolving technology. There also have been changes just within the last few months as the Newsletter Committee merged with the Website and Technology Committee to form the Communications Committee. We have moved to a monthly format with even more frequent "breaking news" updates.
In addition, we've created a new Members Only site with easier accessibility. The Members Only site has a link to the excellent webcast from February 11, 2015, on Creating a Sense of Presence taught by Karen Thorson, former NASJE President and inspiration for NASJE's Karen Thorson Award. For an overview of the session, see the article on this site: "How Judicial Educators Can Create 'Presence' Within the Judicial Branch." Thanks to Karen and to NASJE's Western Region led by Joseph Sawyer for this educational session.
NASJE members who do not have the password to the Members Only site can contact me at or contact Communications Committee chair Christal Keegan at .
We invite you to be part of making 2015 NASJE's best year ever!
Warm regards,
Kelly Tait, NASJE President