By Margaret Allen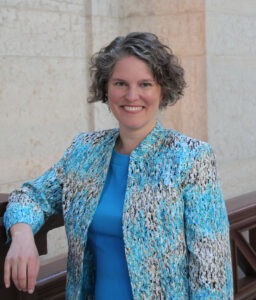 Greetings from Ohio! In this edition of "From the President", I'd like to share my plans for the coming year.
After the conference concluded in Seattle, the Board held its traditional meeting. Before the meeting started, we had lunch with all available committee chairs, and I asked everyone to share a word or phrase that encapsulated their plans or hopes for the coming NASJE year. Click here to see a "word cloud" image of all the contributions.
My phrase was "come together." NASJE is an organization made up of diverse members – while we do similar work, our methods to accomplish it vary greatly. We come from different areas of the world, our organizations are structured and perhaps funded differently, and we each develop education in our own unique method. An image that comes to mind is a tapestry woven together from many different threads. Each thread is distinct, but by weaving them together, a beautiful design is completed. Over my ten years as a member, I have observed that while NASJE members collaborate on an organizational level on some projects, such as the curriculum designs and our annual conferences, we could also come together at an even higher level in additional ways:
Gather information regularly from members regarding their educational offerings so that all can benefit from the information through sharing of materials or possibly attending courses of interest;
Partner with other judicial branch organizations such as NACM, COSCA, CCJ and others for the benefit of all, highlighting the important role of judicial branch educators (by attending and presenting at conferences, partnering on projects, etc.);
Coordinate with partner organizations in terms of scheduling webcasts, conferences and other activities to avoid overlapping complementary events;
Continue to document our internal processes and practices so that our volunteer leadership can more easily transition from year to year; and
Grow our social media presence to allow members to easily share information and to inform our partners and the public about NASJE activities.
Undoubtedly this idea can be explored further. I welcome you to share your thoughts with me via email at or by phone at 614-387-9464.
Board Activities: As always, your Board is hard at work on your behalf. Today at our Board meeting, we're going to approve the 2016 budget, finalize the location of the 2017 and 2018 conferences (to be held in the Southeast and Midwest, respectively), and continue to use the Strategic Planning Document as a guide as we look ahead.
COSCA Midyear Meeting: I had the pleasure of meeting many of your state court administrators at the Conference of State Court Administrators in early December at their midyear meeting. Our organizations have many shared interests, including a commitment to excellent education, a focus on diversity, and a mission to improve the administration of justice. I was able to share NASJE resources during committee meetings, including our curriculum designs, as well as thank them for their support of your participation in NASJE and encourage those states without NASJE members to consider membership in the new year. You'll be interested to know that Washington State Court Administrator and NASJE member Callie Dietz is COSCA's Education Committee Chair – great to see a NASJE member in that important role.
NASJE Website: I encourage you to visit www.nasje.org regularly to read articles of interest to judicial branch educators and learn about committee activities, regional meetings, and other resources. Click here for a calendar of committee meeting dates and times. These will also be entered into the calendar (click "Calendar" on the black menu bar at the top of the home page). Email addresses for Board members and committee chairs are on the Board and Committees page, respectively.
NASJE on Social Media: Have you joined the NASJE LinkedIn page or the Judicial Educators Facebook page yet? Social media is an easy way to share relevant information and keep in touch with NASJE colleagues, as well as raise our profile.
Giving Tuesday: Many thanks to those who made a tax-deductible contribution on Giving Tuesday (and throughout the year). NASJE has received nearly $1,000 in donations since the conference – funds that will grow our endowment and support conference scholarships and other initiatives.
As you can see, our organization has a lot of irons in the fire. In Seattle, Immediate Past President Kelly Tait concluded her excellent welcoming remarks to conference attendees with this William Butler Yeats quote – "Education is not the filling of a pail, but the lighting of a fire." I'll end here with the observation that NASJE's fire is burning brightly, thanks to the energy and contributions of all kinds from our committed members.
I wish you all the best for a wonderful end to 2015 and a superb start to 2016. It is a privilege to serve our organization as President, and I look forward to working with you all over the coming year.