Members of NASJE lent their experience and expertise to a cadre of court leaders from across the nation at the July meeting of the National Association of Court Management in Atlanta.
"NACM wanted to offer an educational session to equip our NACM state court leaders with the knowledge and skills about how adults learn and how to apply that knowledge whether teaching the NACM CORE or leading the State Association," observed Will Simmons, President-Elect of NACM. "We reached out to NASJE to design this session with the full confidence that it would be a great partnership."
A four-hour session on "Leaders Teaching Leaders" was facilitated by Jeff Schrade, Education Services Division Director at the Arizona Supreme Court and Tony Simones, Director of Civic Education for The Missouri Bar. Twenty-one court managers who lead regional and state court management associations participated in the session, as well as seven experienced mentors from NACM leadership. To encourage and facilitate discussion, three participants and a mentor were placed at seven tables.
While Schrade and Simones presented information to the entire group on subjects ranging from the courts as learning organizations to adult learning principles and creating learning objectives, an even greater amount of time was given to the participants for analysis and discussion of these ideas in small groups at their tables. "Jeff and I knew it was essential that they go beyond just listening to information and actually engage each other nto build valuable skills," Tony Simones stated. "We wanted them to return to their courts prepared to implement these concepts."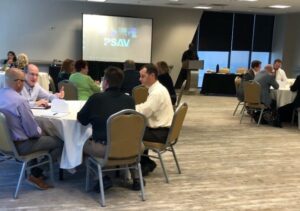 The day culminated with participants making presentations about material from the NACM Core that would create a foundation for interactions they will ultimately have with their own colleagues and staff. "Court leaders must teach – whether through formal classroom instruction, mentoring, or communicating with and persuading a wide variety of team members and other justice stakeholders," commented Jeff Schrade.
Not only was the session designed to enhance the presentation and communication skills of regional court management association leaders, it was also intended to demonstrate to NACM leadership the viability of holding longer programs to explore topics in greater detail.
NACM President-Elect Will Simmons characterized the event as a success: "The NASJE facilitators, Tony Simones and Jeff Schrade, were outstanding and the "Leaders Teaching Leaders" session was designed perfectly to meet our needs. The participant feedback was phenomenal. We are very excited about our partnership with NASJE."