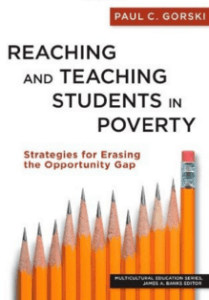 Reaching and Teaching Students in Poverty: Strategies for Erasing the Opportunity Gap by Paul C. Gorski
Get it at AMAZON
The author draws from decades of research to deconstruct popular myths, misconceptions, and educational practices that undercut the achievement of low-income students.
He carefully describes the challenges that students in poverty face and the resiliencies they and their families draw upon. Most importantly, this book provides specific, evidence-based strategies for teaching youth by creating equitable, bias-free learning environments. Written in an appealing conversational tone, this resource will help teachers and school leaders to better reach and teach students in poverty.