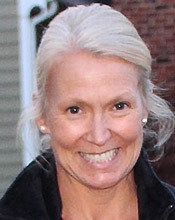 Well, NASJE Colleagues, I hadn't exactly planned to write another "President's Message," but then again, I hadn't planned on Hurricane Irma or any of the frantic activity that occurred as that storm barreled towards the east coast with Charleston in its sight. Again, first and foremost, our hearts go out to all of those affected by hurricanes this season – we wish you strength and fortitude as you and your communities recover.
Postponing a conference is a miniscule effort, considering what others have had to endure. But as we all know, it sure doesn't feel miniscule in the moment, regardless of one's level of experience in dealing with emergencies. If Irma isn't a teachable moment, I don't know what is! Stay tuned for a future NASJE conference presentation on "Judicial Branch Education (JBE) Continuity of Operations Plans," and if you need a refresher in COOP, take a look at NCSC's COOP Planning Guide.
Lastly, if this "disaster planning" has you thinking about a time (or two) in your JBE career when you've had to implement Plan B, please share that with your NASJE Facebook friends. It's likely that we spend significant time in our daily lives discouraging war stories, but in this case, we might all enjoy learning from each other and commiserating together.
Regarding the conference itself, we have essentially transported the educational agenda, the experiential learning opportunity (ELO) at the Emanuel African Methodist Episcopal Church, and the social events to the new conference dates of December 3-6, 2017. Your Conference Committee Co-Chairs continue working to reschedule faculty on the new dates, and the response has been overwhelmingly, "Yes! I can be there in December." Thank goodness! Given the "extra" months we now have until the conference starts, I'll remind attendees of the advance reading recommended in the "ELO Preview and Recommended Reading" article on NASJE.org. Authors of the book We Are Charleston: Tragedy and Triumph at Mother Emanuel will join us at the church for our ELO. Make the most of it by reading and reflecting on the suggested materials before this Tuesday afternoon (December 5) session.
Since our Annual Business Meeting was postponed until December, the current Board remains in place until the next Business Meeting (Tuesday, December 5). On behalf of the Board, I respectfully ask that our committees continue their work as well. It is essential that we don't "lose" these next 10 weeks, in terms of the tasks and responsibilities that fall to the hardworking chairs and members of NASJE's committees. Visit the NASJE.org member area to view the latest committee reports, prepared for the September Business Meeting, to see what activities are underway and be in touch with a committee chair or member if you see something of interest. Volunteers serving on committees are always welcome and needed!
I'd like to end my remarks by having us look forward (again) to NASJE's Annual Conference where Old meets New: Incorporating Fundamentals, Instructional Design and Adult Learning into the 21st Century, December 3-6, in Charleston, SC. My anticipation, and hopefully yours as well, will continue to grow as we look to December for all of the educational opportunities that were planned for September. We, as a Board, were able to implement "Plan B" largely because of the heroic efforts of Conference Committee Co-Chairs – Dan Rettig and Janice Calvi-Ruimerman – and Nikiesha Cosby of the National Center for State Courts. To have to prepare for this conference once is a monumental task, but twice?! I'm so very grateful for their attention to detail, for the Board's and Past Presidents' guidance, and to all of our members and attendees who remain "onboard" for December. During this unexpected down time, I have started another Pat Conroy novel, but the quote I used in the last message is so poignant, I hope you will allow it to remain posted just a bit longer… Until December, my friends!
Charleston has a landscape that encourages intimacy and partisanship. I have heard it said that an inoculation to the sights and smells of the Carolina low country is an almost irreversible antidote to the charms of other landscapes, other alien geographies. You can be moved profoundly by other vistas, by other oceans, by soaring mountain ranges, but you can never be seduced. You can even forsake the low country, renounce it for other climates, but you can never completely escape the sensuous, semitropical pull of Charleston and her marshes.