Dear NASJE Colleagues,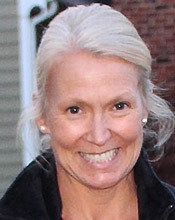 It is my pleasure to wish you a "Happy Spring" and to update you on all of the amazing work that is underway, through our committees and through our outreach and collaboration with our justice system partners.
At the beginning of the year, President-Elect Lee Ann Barnhardt represented NASJE at the Conference of Chief Justices Mid-Year Meeting in Arizona. She was honored to get an inside look at the issues the chief justices are addressing, and suggested to the Board that we look for ways to integrate some of those same topics into our conferences and online learning opportunities. In addition, Lee Ann was able to visit with some of the chief justices from states which are not represented within our NASJE membership, educating them on the many benefits of NASJE. As the next President, Lee Ann will continue building and strengthening these relationships, and I greatly appreciate her efforts in this regard.
In February, I was privileged to attend the NACM Mid-Year Conference in Portland, OR, at the invitation of NACM President, Scott Griffith. NASJE Immediate Past President Margaret Allen also attended, and you can imagine our delight when we heard Scott talking about his experience at the 2016 NASJE conference in Burlington. He quoted one of our distinguished long time members, Dr. Maureen Conner, in the opening remarks of the plenary session on the "National Task Force on Fines, Fees and Bail Practices" with fellow speakers Jeff Chapple and Yolanda Lewis.
Judicial systems that offer education to judges and court personnel are making a statement about the importance of knowledge and information in evolving the skills, abilities, and aptitudes of its members. The values that leaders hold become evident by what they say and do. Educators as leaders must know what they value. Their values are articulated through the way they approach education from content selection to delivery format to defining learner groups. Each and every education opportunity and challenge is an avenue for educators to express the values they hold about the role of courts in society.

Educators as change leaders should ask three fundamental questions: What world do we want to live in? What role can the court play in creating and sustaining that world? How do we get there together?
The full article, "Creating Presence in the Age of Continual Change: Judicial Educators Leading the Edge" is available here. Another terrific resource is available on the NACM website. Did you know that NACM conference plenary sessions are recorded and available through their website, thanks to grant funding from the State Justice Institute (SJI)? Check out the list of sessions, and spend a few minutes getting up to speed on the latest court-related topics right from your office or home.
Also in February, NASJE Treasurer Jeff Schrade hosted the Board at the Judicial Education Center in Phoenix for its mid-year meeting. Much of the discussion related to issues and outcomes described below; however, written committee reports are posted in the Members-only area (scroll down to Reports) of the website. Even after serving on the Board now for a few years, I'm always surprised how quickly the mid-year meeting time passes. Just as distance learning endeavors can be valuable and just as they have their place in the education realm, there is nothing like in-person meetings for strengthening relationships and building consensus. Thank you, Jeff, for your hospitality and your excellent tour guide skills.
Continuing my update on outreach opportunities with our justice system partners, I'll share information about a recent presentation that Immediate Past President Margaret Allen did for attendees of the American Judges Association Mid-Year Meeting in Arlington, VA. The presentation was entitled "Technology Trends for Judges," and included updates from states on electronic bench books, social media, customer service online portals, records and document management and video technologies. Thank you, Margaret, for representing NASJE and sharing this informative presentation with our judicial colleagues.
Lastly, regarding our partnerships with other organizations, I'm pleased to tell you about collaborative efforts underway for the IACA/NACM International Conference that will be held in Washington, D.C. this summer (July 9-13). IACA stands for the International Association for Court Administration, and was formed in 2004 in Slovenia with the goals of promoting improved court management and administration in all countries and fostering professionalism and collegiality among those serving in court systems throughout the world. NASJE International Committee Chair Claudia Fernandes asked for volunteers to offer faculty development assistance to speakers at this year's IACA/NACM conference. Several NASJE past presidents have offered to assist these presenters, and we look forward to learning more about the work the group is undertaking. Thank you, colleagues, for continuing your NASJE work beyond your presidencies while helping our organization strengthen its ties and relationships with justice system partners.
In case you haven't heard, NASJE members from near and far plan to gather in Charleston, SC this September for our annual conference; I sure hope that you will be one of them! From the experiential learning opportunity that includes a visit and onsite discussion at Emanuel African Methodist Episcopal Church to numerous other educational and social opportunities, we will learn and network together, with the goal of bringing back tips, experiences, ideas and connections to further judicial branch education in our respective states. Members will be notified when conference registration opens.
Can you think of other cities that might be ideal locations for a NASJE conference? If so, we'd like to hear from you when our new "site proposal" process gets underway. Members will have the opportunity to propose sites based on a number of factors, including hotel availability, weather, overall costs, proximity to an airport, "local" NASJE support, and other relevant factors. As you may know, NASJE conferences rotate annually by region. Following Charleston, Austin, Texas (Midwestern region) is our next destination. Conference dates are August 26-29, 2018. Mark your calendars now, and if you are from the region or have Austin or Texas connections, please contact Lee Ann about serving on the planning committee. There are lots of opportunities, from planning (and teaching!) the education sessions to supporting the related networking events…even hosting sessions at the conference. There are commitments of all sizes to fit your available time and interests. On behalf of the Board, we encourage you to become involved in conference planning for 2018 or a future conference.
In the meantime, if there are "education" colleagues in your own office or in your state, please consider sharing the newest NASJE membership brochure with them. The Membership and Mentor Committee, co-chaired by Lee Ann Barnhardt and Sarah Dahl, has been busy preparing and developing this terrific resource that can be shared with potential members. If you are attending a conference or a meeting where information on professional development associations or resources might be shared, print a few brochures to take along, or share the link after the meeting. Details about our organization, the NASJE listserv, the mentor program and other services are explained.
And finally, thank you to the membership for helping us make some Constitution and Bylaws updates that will ensure NASJE's nomination process continues to be as fair and transparent as possible. So far, we've had about 100 responses in favor of the changes, but we still need about 30 more. The deadline for approval of the amendment is May 21. A detailed email was sent to the membership in April, but if you have specific questions, please reach out to me or Bylaws Committee Chair, Tony Simones. I'd like to thank Tony and the Bylaws Committee for all of their hard work on these amendments; this is detailed, cumbersome, important work. Please take time to vote if you have not already done so.
Throughout my message, I've expressed great appreciation for committee chairs, members, past presidents and others, and as President of a volunteer organization, that's all I can offer. That being said, I suspect most of the folks intimately involved in keeping NASJE "running" would agree that they benefit immensely from their engagement and participation. If you aren't already serving on a committee, serving as a mentor to new NASJE members, or serving NASJE in some capacity, please consider these and other ways to be active within our organization.