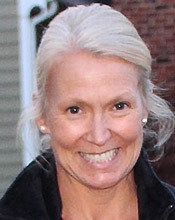 Happy Summer, NASJE Colleagues!
It's one of my favorite times of year, especially when I'm able to enjoy some fun in the sun with family and friends. If you haven't yet taken a vacation or at least slowed life to a summer pace, you better do so soon.  "Back to school" messages are everywhere, making it hard not to think ahead to September and the educational opportunities and requirements often associated with that month.
NASJE's own exceptional educational sessions continue to be planned for September 10-13 in Charleston. If you think you might be able to do some advance reading before the conference starts, in preparation for the experiential learning session at the Emanuel African Methodist Episcopal Church, check out this article elsewhere on our website. Authors of the book We Are Charleston: Tragedy and Triumph at Mother Emanuel will join us. More on the annual conference in Charleston follows, but first, I'd like to share an overview of activities undertaken by our association this spring and summer.
Your NASJE Board continues to meet monthly in an effort to stay up to date on committee activities and projects, NASJE's fiscal status, and opportunities and issues that may be of interest to the membership.  One committee in particular is in need of assistance – the Membership and Mentor Committee. If you might be interested in serving as a NASJE mentor (and no, you don't need 20 years of experience to do so!), please take a look at President-elect/Co-Chair Lee Ann Barnhardt's recent article. You just might be inspired to serve, and we thank you in advance for your willingness to help NASJE's newest members.
Karen Thorson Award. The Board is delighted to announce that Michael Roosevelt of California is the recipient of the 2017 Karen Thorson Award. He currently serves as the Senior Analyst, Criminal Justice Services, Judicial Council of California, Operations and Programs Division, but his contributions to the court community extend well beyond that position. If NASJE's history was portrayed as a mural, there would be a gaping hole, were it not for the knowledge and services Michael has provided to the organization through the years. He has regularly led conference sessions and efforts to develop curriculum, in addition to acting as regional director and committee chair. Michael will join us in Charleston at the Annual Conference to receive this honor (and to lead a discussion), and you can look forward to learning more about him when his "interview" is posted to the NASJE website later this fall.
On June 27, NASJE held a webinar on "Rethinking Learning Styles" (recording available on the Members Only page). Nancy Smith and Mary Ann Koory of the Western Region and Tony Simones of the Midwest Region facilitated the discussion. The goal of the webinar was to help members prepare for the upcoming conference session that will be a continuation of this discussion, and will feature Tesia Marshik of the University of Wisconsin Lacrosse. Dr. Marshik's Tedx talk on the subject of rethinking learning styles was the catalyst behind the 2016 conference session and this webinar.
On May 11, Education & Curriculum Committee member Julie McDonald of Indiana hosted a "callinar" session on "Vicarious Trauma." Tiffany Hammill of Florida, whose capstone paper on "Addressing the Effects of Vicarious Trauma Experienced by Court Employees" served as the foundation for the session, and Loretta Oleksy, Deputy Director of the Indiana Judges and Lawyers Assistance Program, led the discussion of 22 NASJE members.
Since my last update, I have represented NASJE at both the NACM/IACA Joint International Conference in Arlington, VA and the CCJ/COSCA Annual Meeting in Philadelphia, PA. For their July 2017 conference, NACM partnered with the International Association for Court Administration (IACA), and the theme was "Excellence on a Global Scale." Many of the plenary sessions had an international or global focus, but there were also numerous breakout sessions on topics of great interest to so many working in the courts, both stateside and abroad. A few NASJE past presidents assisted with faculty development for the event, and we are appreciative of the opportunity to strengthen our NACM partnership and the educational sessions themselves.  As a reminder, you may view select annual (and midyear) conference sessions on the NACM website. Handouts and other written materials are available as well.
The Annual Conference of Chief Justices (CCJ) and the Conference of State Court Administrators (COSCA) was held in Philadelphia (August 5-9), and the theme was "Federalism: Sharing Power, Securing Liberty." Chief Justice of Pennsylvania, Thomas G. Saylor and Court Administrator, Thomas B. Darr offered remarks from the host state, followed by a warm welcome from Governor Thomas W. Wolf and Attorney General Josh Shapiro. An eloquent and inspiring start to a great event!
Education topics included the following:
Promoting Cooperation between State and Federal Courts
National Task Force on Fines, Fees and Bail Practices Update
Who Cares What "The Federalist Papers" Say About Federalism?
Safety and Security Strategies for Judges, Their Families and the Court (Judicial Family Institute Presentation)
On behalf of the NASJE Board of Directors, I thank all of these partner organizations for their invitations and look forward to continuing our joint efforts in judicial branch administration and education.
Let's now turn our attention forward to an upcoming event that is equally exciting – NASJE's Annual Conference where Old meets New: Incorporating Fundamentals, Instructional Design and Adult Learning into the 21st Century, September 10-13 in Charleston, SC. Visit NASJE.org to see details, including the educational agenda and multiple articles on education sessions, including the We Are Charleston experiential learning session and the viewing of "Moonlight."  The article, "The Best of Charleston," that Conference Co-Chair Janice Calvi-Ruimerman and member Meredith "Merry" Hofford wrote, is a must read.  And, if you still have time for more reading, one of Pat Conroy's novels set in South Carolina might be just the thing. I sincerely hope to see you soon in this historical city.
Charleston has a landscape that encourages intimacy and partisanship. I have heard it said that an inoculation to the sights and smells of the Carolina low country is an almost irreversible antidote to the charms of other landscapes, other alien geographies. You can be moved profoundly by other vistas, by other oceans, by soaring mountain ranges, but you can never be seduced. You can even forsake the low country, renounce it for other climates, but you can never completely escape the sensuous, semitropical pull of Charleston and her marshes.