By Lee Ann Barnhardt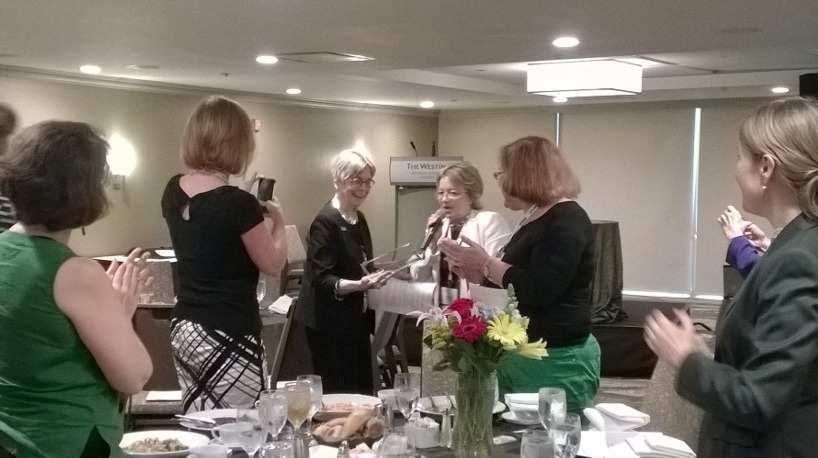 It is not often that we meet someone who has a significant impact on our lives. I was lucky to have met that person in Patricia Murrell. Pat left this world on October 25, 2019, but her passion and commitment to judicial education lives on in all who have had the privilege to learn from her or teach with her.
I was introduced to Pat in 2005, one week after accepting a position as a judicial educator in North Dakota. She was teaching an adult learning class on David Kolb's experiential learning model at the annual NASJE Conference. The following year a team from North Dakota attended her Leadership Institute in Judicial Education at the University of Memphis. That experience helped shape my knowledge of adult learning and development and forever changed the course of judicial branch education in North Dakota.
Pat gave us a new definition of leadership that we still follow today. Through her programs and encouragement we have a Justices Teaching Institute for civic engagement, a strategic plan for education, and ongoing faculty development for judges and staff.Pat retired from the University of Memphis in 2014. Upon her retirement, NASJE member Kelly Tait wrote, "On a broad scale, she instilled the principles of adult development and learning in judicial branch education. On a more personal level, she ensured participants' deep consideration of the importance of competence and character." Later that year, she was awarded the Karen Thorson award from NASJE, which was established to honor a member who has made a significant contribution to both NASJE and judicial branch education nationally.
It is hard to quantify the impact Pat has had and continues to have on our profession. She was a scholar, a pioneer, a leader, a teacher, a coach, and a mentor, but most of all she was a friend. Pat was known for quoting educator and author Parker Palmer and I would like to use his words to honor Pat's life and her impact on me.
"I love being in the company of strangers, who always turn out to be kin as I learn more about their stories and what they care about. In their company, I feel more deeply at home among the rich diversity of life that inhabits this good earth." – Parker Palmer.
Pat made me feel at home at that first NASJE conference and in this field of judicial education. For that, I am forever grateful.
Pat's Obituary
Patricia Jane Hillman Murrell, 83, died October 25, 2019. The daughter of Adam Byrd Hillman and Mary Lessie Walton Hillman, she was predeceased by her husband, Dan Stewart Murrell, and her brother, Adam Byrd Hillman, Jr. She is survived by her two children, Dan Hillman Murrell (Vicki) of Memphis and Susan Patricia Murrell (Dennis Stephens) of Gorham, Maine; two grandsons, Cody Murrell of Houston, Texas and Sallis Murrell (Lena) of Macon, Georgia; a sister, Rosemary Hillman Hopkins (Oliver); five nieces and nephews; and two great-grandchildren, Flora and Lazarus Murrell.
Born in Neshoba County, Mississippi, Pat grew up in the Be Better community, graduated Union High School and Millsaps College, and received master's and doctoral degrees from the University of Mississippi. She taught in several elementary schools; in the U.S. Armed Forces Institute in Wurzburg, Germany; at George Mason University; and at the University of Virginia's Northern Virginia Center. In 1970, she joined Memphis State University (now the University of Memphis) as its last Dean of Women. There, she was professor of counseling and a member of the Center for the Study of Higher Education. She also directed the Leadership Institute in Judicial Education and the Institute for Faculty Excellence in Judicial Education, receiving several awards. This work in continuing education for judges also brought her recognition as a founder of the International Organization for Training Judges and as an international consultant for judicial education.
Pat taught in the Department of Leadership at the University of Memphis until her retirement as Professor Emerita in 2014. She was recognized as one of the University's 100 most inspirational women during its first 100 years. She served on the boards of Memphis Planned Parenthood and Theatre Memphis and was a longtime member of St. Luke's United Methodist Church.
The family wishes to thank Pat's devoted caregivers, Tonya Anderson, Dyanne Saulsberry, and Florida Smith.
A memorial service will be held at 10 AM on Saturday, November 2 at St. Luke's United Methodist Church in Memphis, and the family will receive visitors afterwards.
The family requests that memorials be made to the Patricia H. and Dan S. Murrell Law Faculty Enrichment Fund at the Cecil C. Humphreys School of Law at the University of Memphis (supportum.memphis.edu/murrellfund), Planned Parenthood, Theatre Memphis, St. Luke's, or a charity of the donor's choosing.